The legendary three-month course at Haa International Course centre has taken place yearly for almost 50 years. During this yoga retreat, the most advanced practices from the Satyananda tradition are revealed during optimal conditions. If you read this, you might be wondering if this retreat lives up to its reputation and you might be wondering if it is right for you. This article will give you the full picture.

If you are planning to enrol for this three-month course, it's good to get a second opinion on this retreat, in addition to the official course description. In this review, you will get just that. You will not only get mine, but for the sake of this article, I have talked to five other yoga practitioners and teachers who have completed the three-month course.

About me
Before reading, you should know who I am. I did the three-month course myself in 2002, and the following five years I lived at Haa Course Center. During this time, I trained to become a yoga and meditation teacher. Having completed the training, I left the organisation to become a self-employed teacher. Therefore I know the course center very well, but at the same time have the perspective of an outsider. Today I train yoga teachers myself, and several of them have participated in the three-month course lately.

Now that that's clarified let's look at where this three-month yoga course takes place.
The optimal setting for collective sadhana
A magical place deep in the Scandinavian forests
Haa International Course Center is located deep in the forests of southern Sweden, just a few kilometres from the village Hamneda where a shallow valley of farmland opens up the landscape. This land has been cultivated since the Bronze age, and in the 19th-century, hundreds of people lived here. But after waves of emigration to America and a general exodus from the countryside, only a few remain. The local school closed down many decades ago, and this building eventually ended up becoming the main building of the yoga school.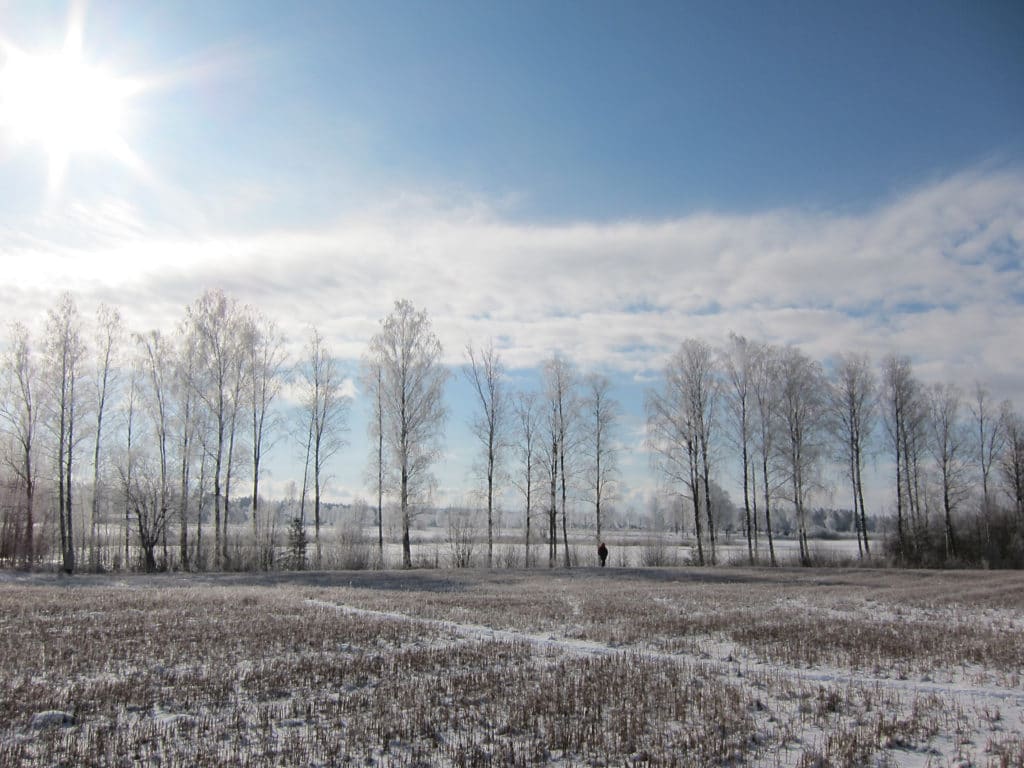 Haa Course Center is quite a busy ashram. They offer weekend retreats and two week-retreats all year round, and during the coldest winter months, the annual three-month course. For international participants, access is simple with a two-hour train ride directly from Copenhagen airport. If you come by car, you easily reach the center from the E4 highway which is just a few kilometres away.

Your fellow participants
When I did the three-month course in 2002, we were 45 participants and filled the yoga room to the brim. When we were lying down for yoga nidra, there wasn't room for a single extra person. These days the limit has been set to 35, and usually the last places are taken several months before the retreat begins. Most participants are from Scandinavia, some from other European countries and one or two often comes from further away.
The participants are of all ages, but many are young adults. The course attracts everything from total beginners to experienced yoga teachers. But many have already participated in shorter retreats or practised in city schools affiliated with the Scandinavian Yoga and Meditation School. There are even three-month course veterans who redo this sadhana for the second, third or even fourth time.

The gender balance is usually more equal than in urban yoga classes. Sometimes there are even more men than women. In 2005 I recall that 75% of the participants were men.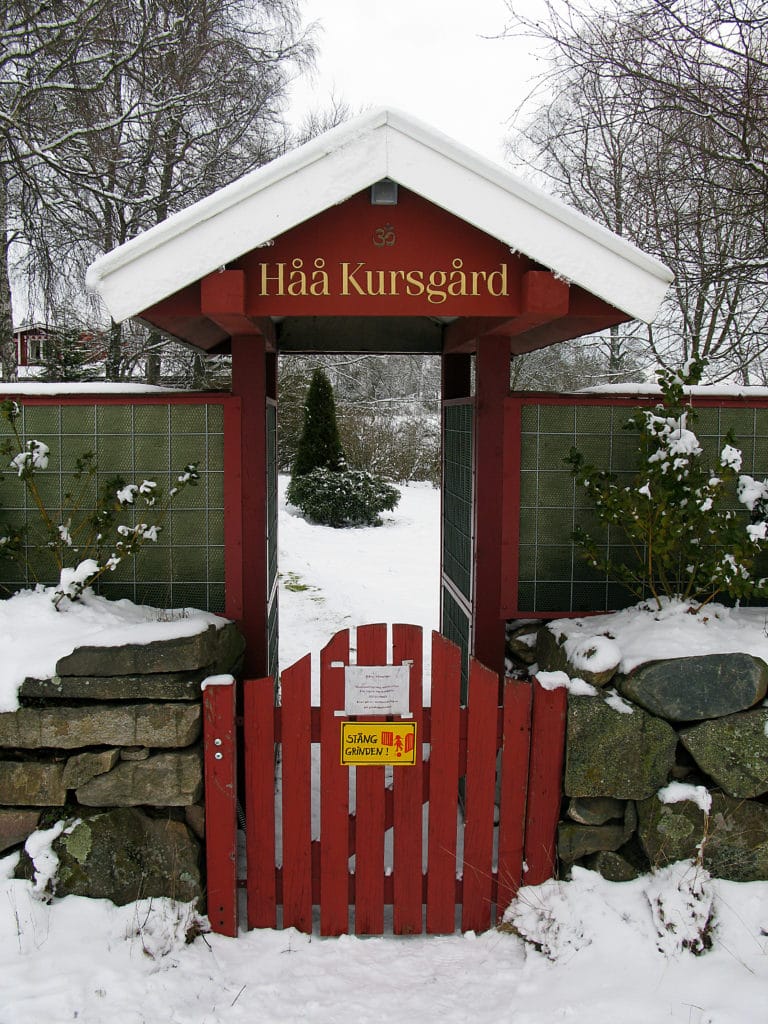 Excellent facilities and inspiring decorations
For a yoga center, Haa offers superb accommodations, and the level of comfort is almost too high.
The center owns several buildings. The old school building, which has become the main house, is flanked by two smaller buildings. In addition, four other houses which are spread out in the immediate surroundings belong to the centre. On a full three-month course, all buildings are used. If you get a room in one of the annexed buildings, you will enjoy a short walk every time you go to the yoga room.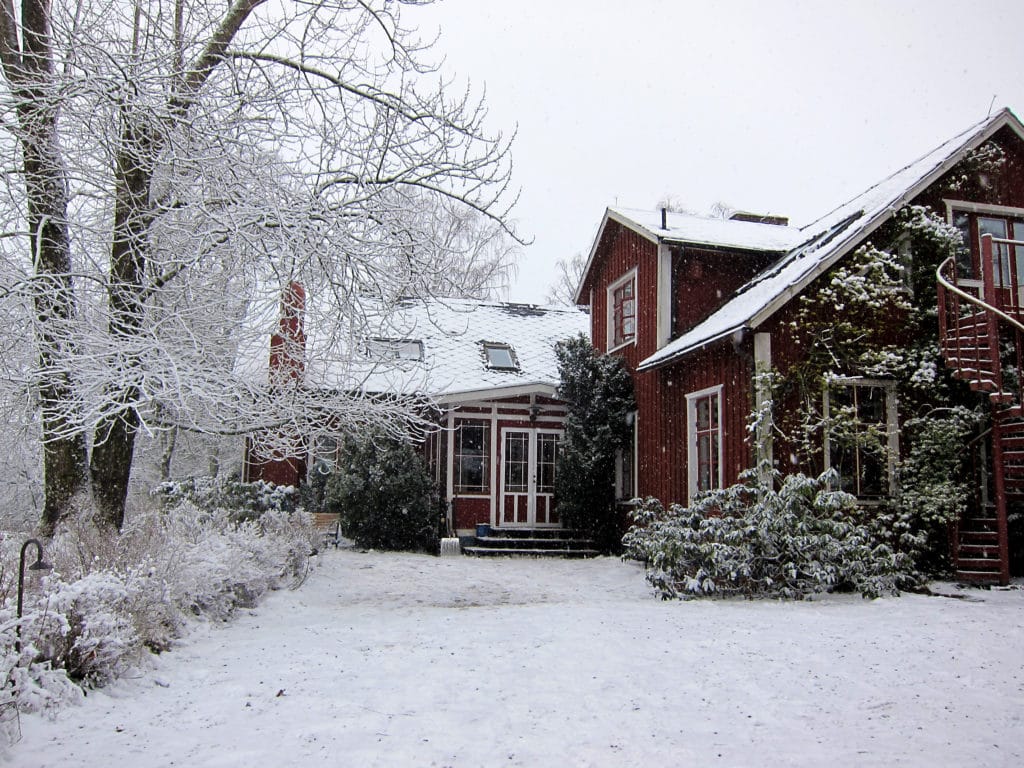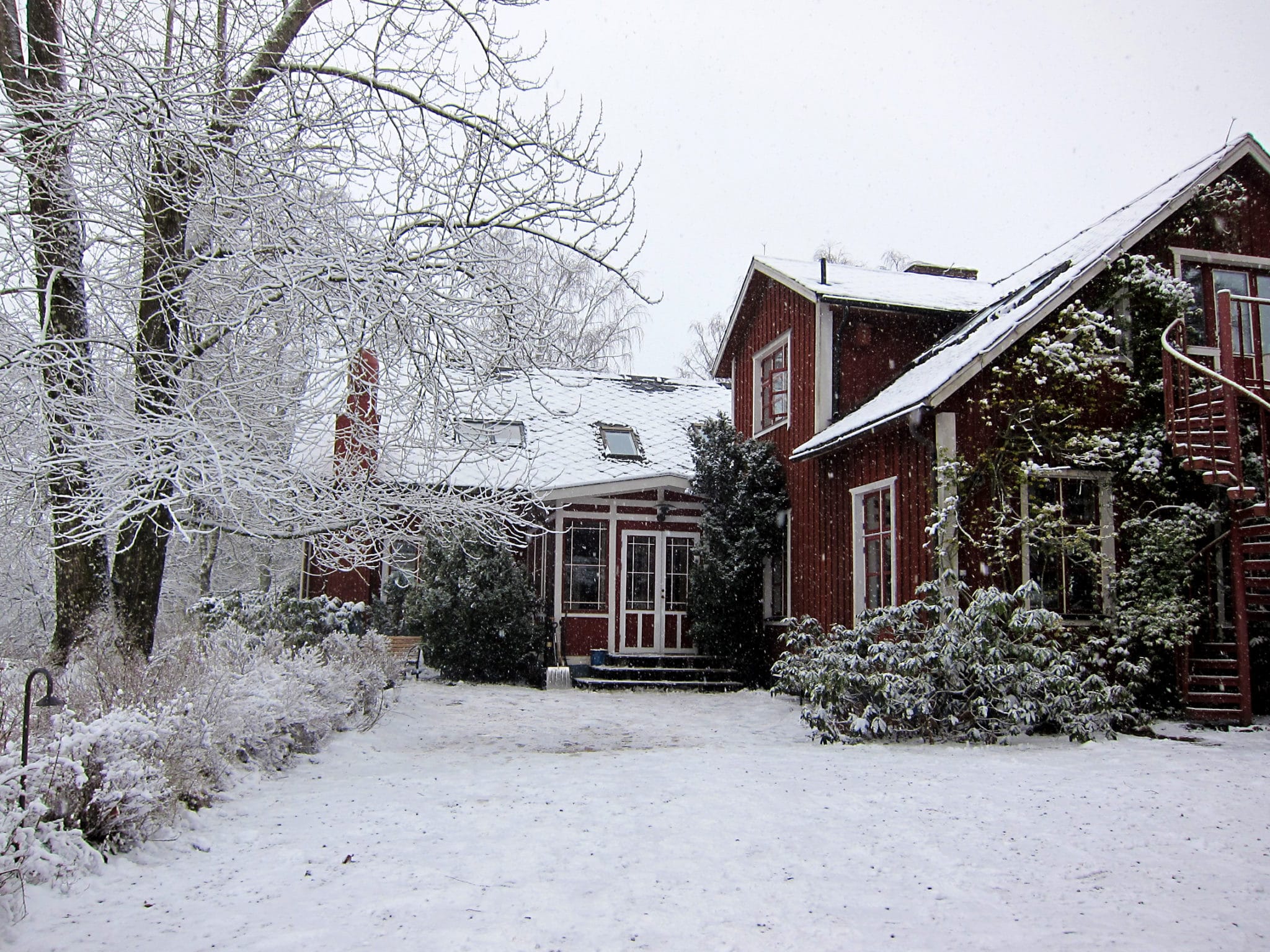 The yoga room is spacious with a beautiful wooden floor and is well equipped. Since some years back, you practice on large futon yoga mats that measure 90 centimetres across. Yoga mats of this size are overkill if you ask me, but you will enjoy more space than in your average big-city yoga studio, that's for sure.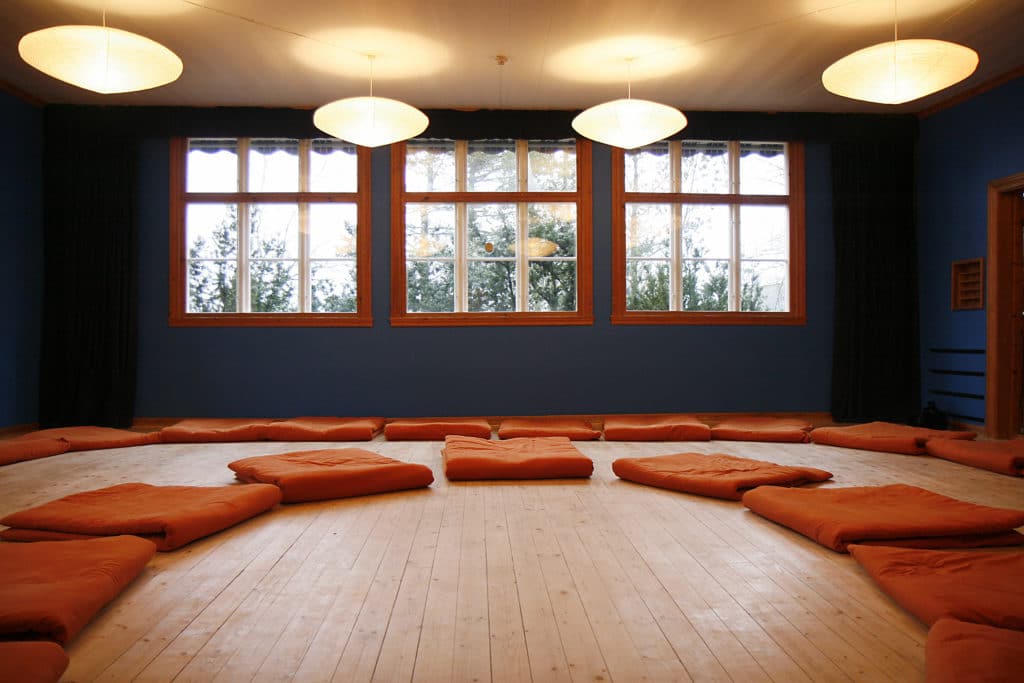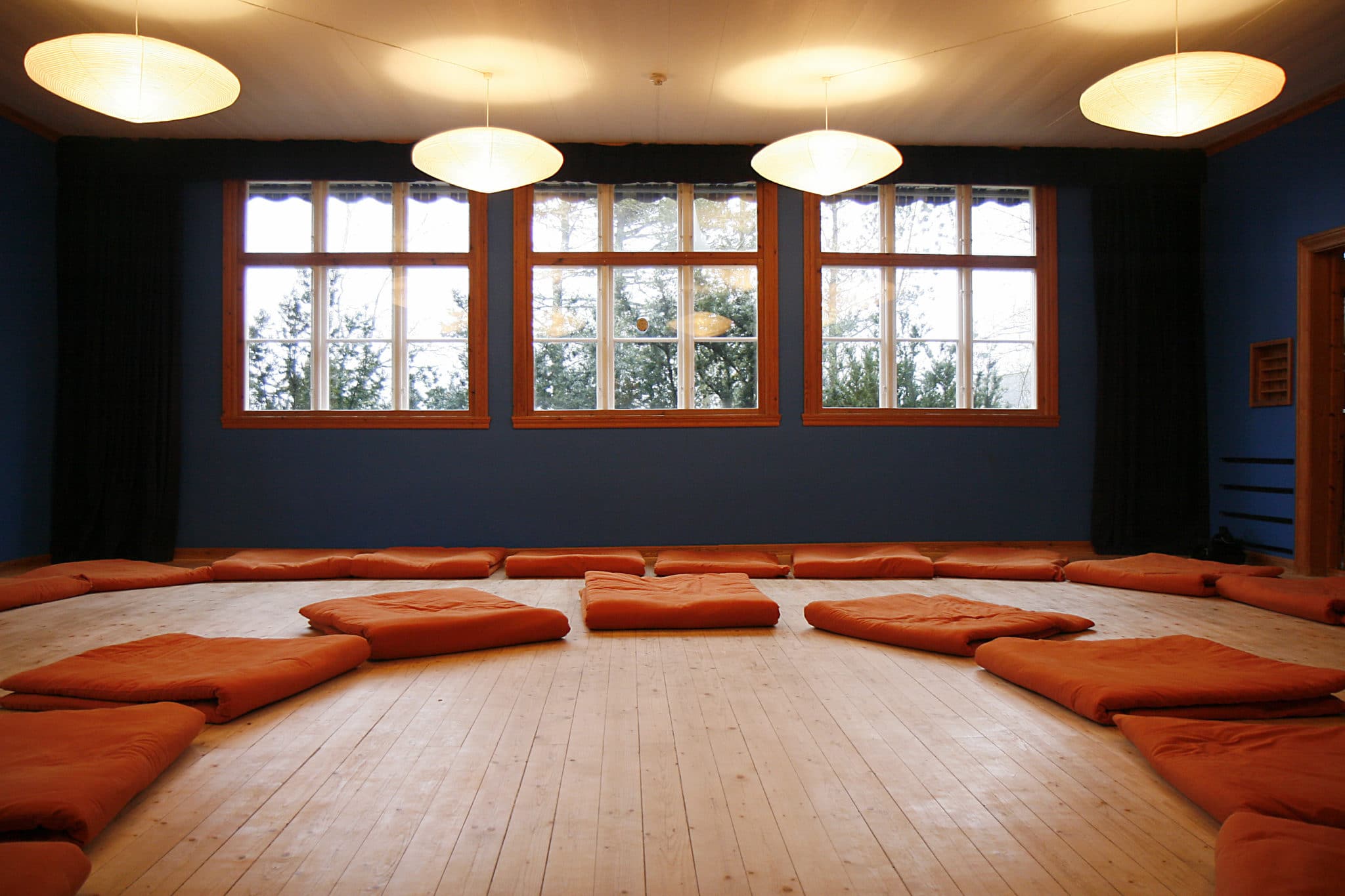 Just next to the yoga room there is a living room which you can use when you have some free time. The living room, as well as the other communal areas, are decorated with yoga-related art the centre has collected over the decades. You will see inspiring paintings of Sohan Quadri, Carsten Crone Caroc and many others. During the course, your sensitivity to art could increase and I am sure you will enjoy the decorations, even if you have never been interested in art before.

Yogic cuisine that you are likely to enjoy, most of the time
All food is served in the dining hall. The dining hall is vast and features a glass porch enclosure.
You will get three meals per day. Breakfast is called dalia. It consists of boiled wheat grains and water, and it's very light.
The two other daily meals are generous, and with your tastebuds sharpened because of the yoga practices, the food tastes excellent most of the time. I say most of the time since the finesse of the cuisine depends on which of the volunteers is on kitchen duty. Some are more talented than others.
During a yoga retreat, and especially the three-month course where everything is aligned for optimal yoga practice, a specific diet and certain eating hours have to be respected. The most important reason for this is that you need to have digested your meal before your next practice session. Since you will practice a lot, you will have to put your usual eating habits on hold.
Most people enjoy the food and participants usually beg the chefs for recipes at the end of the course. But if you have strong opinions about food or if you are inflexible with your eating habits, then you should be prepared for a challenge.
Prepare to lose weight
You should also be ready to lose weight. During the shorter two week retreats, people are pleasantly surprised to leave with a kilo or two less than when they came. But during a long retreat, the weight loss might exceed your comfort zone.
Since you are so active during the course and since you spend so much time with yoga postures, pranayama and karma yoga, you burn a lot of calories. Nearly everyone loses weight, and some people loose a lot.
I remember an overweight man who was so fat when he arrived that I was uncertain he would make it through the door. He came a couple of months in advance to start warming up on his own. Already during the months leading up to the retreat, he began losing weight, though he made no apparent effort to eat less. After the three months course, he had lost 30 kilos.
People of average weight lose much less. But still, be prepared to lose, both fat and muscles. If that makes you feel uncomfortable, think again about what you are getting yourself into. If you have eating disorders or if you are excessively slim, seek the advice of the teachers before enrolling.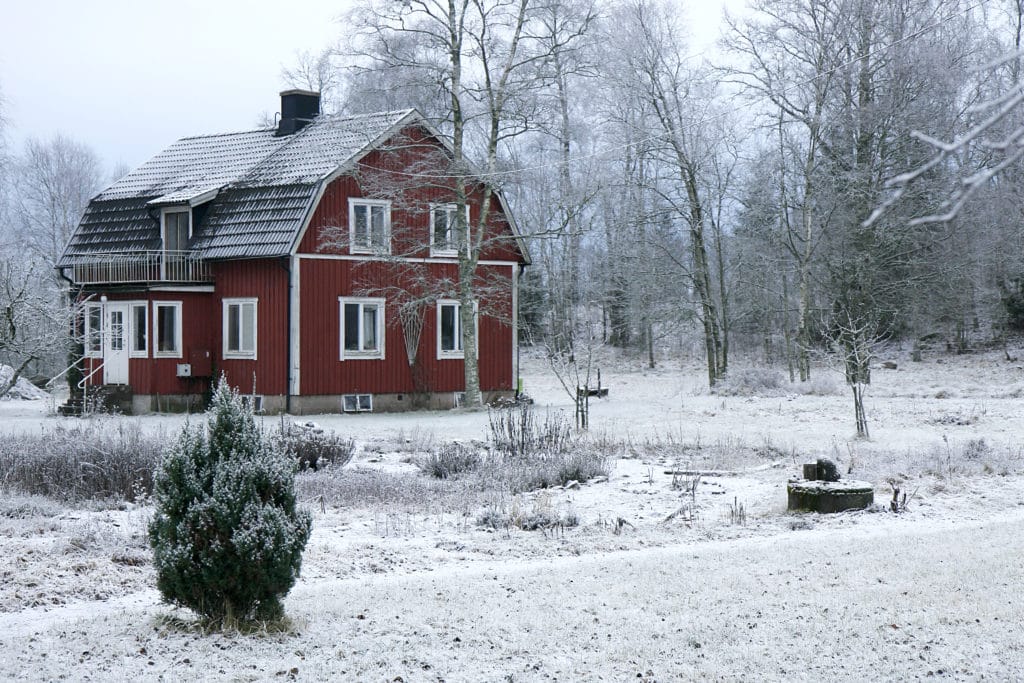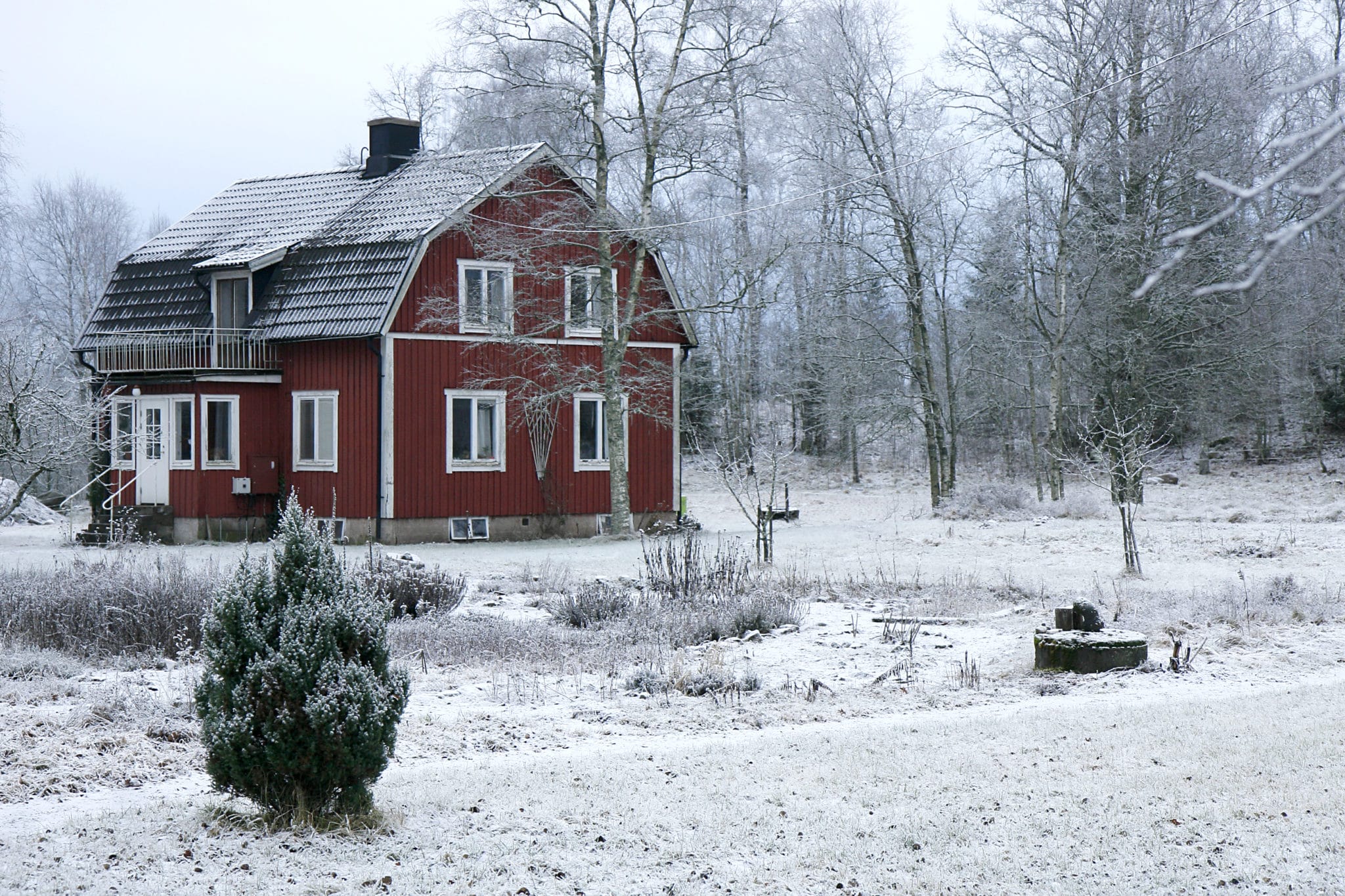 Ideal Swedish winter or rain and darkness?
Haa is situated on the edge of a highland plateau. During winter, temperatures can occasionally drop below -20 degrees celsius. But usual winter weather oscillates around -5 to +5 degrees celsius. If you are lucky, you will enjoy extended periods of snow, but usually, it comes and goes and some winters there is hardly any snow at all. On my three-month retreat in 2002 it rained nearly every day. Clothes-wise I advice you to be prepared for both rain and snow.
The three-month course begins during the coldest and darkest month of the year. As the course progresses, one steadily advance towards spring. In April, when the course approaches its end, you will notice that the days are much longer and that nature is getting ready to blossom. This seasonal change is a beautiful allegory of the inner journey you undertake on the course.

Karma yoga, the yoga of selfless work
All retreats at Haa Retreat Center include karma yoga. Karma yoga is yoga through action, meaning doing odd jobs at the center without being attached to the outcome. Karma yoga is a broad subject, and in some yoga traditions, it is the primary practice. On intense yoga and meditation retreats, karma yoga is essential to harmonise and integrate the effects of the yoga exercises.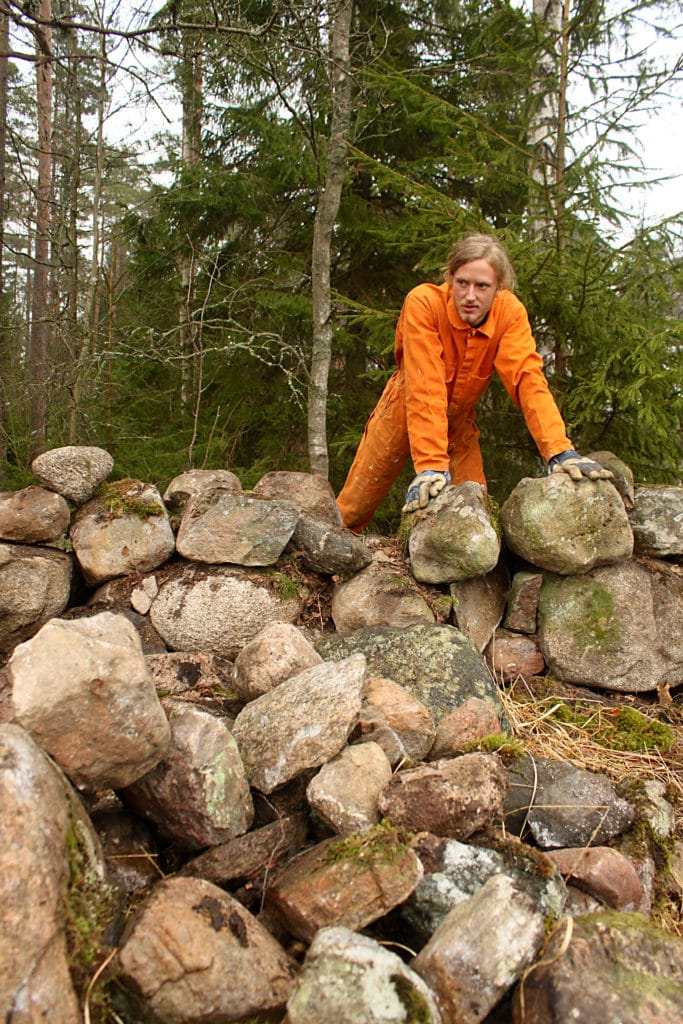 There is also a community component to karma yoga. As participants, you are working to keep the retreat running, and this ties you together and creates a positive atmosphere of fellowship. Cours participants, as well as the staff, carry out everyday tasks, like cooking, cleaning, maintenance, gardening and agriculture, through selfless work. But actually the whole center is built on karma yoga and some of the karma yoga tasks you engage in during the course, like construction and renovation, will benefit future participants.
Bring clothes for both indoor and outdoor karma yoga. There are outdoor karma yoga clothes you can borrow, but you will be better off with your own.
Most of the time, there is karma yoga once a day that lasts one and a half to two hours. On top of this, you will help out with food preparation and dishwashing a few times every week. During the most intense part of the retreat, there is karma yoga twice daily.

Testimonials from course participants
This review would be incomplete without input from others. Therefore you will find testimonials from five former course participants integrated in this post. The first one right below.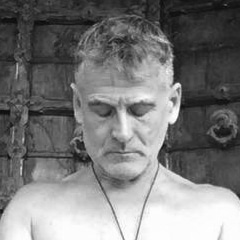 Testimonial
Philippe Bensaque
Philippe from Paris did the three-month course in 1979 when he was 22. He learned about the programme from a teacher from the Scandinavian Yoga and Meditation School that taught for free where he lived at the time. Since then he has participated in one more three-month course and more than twenty one-month Kriya courses.
What did you get out of the course?
I got to learn strong traditional teachings and the possibility to experience the power of intense yoga, with the desire, motivation, ability to practice on my own as much as my living conditions allow me. This developed the ability to face life's challenges in the best way possible.

Was there something you found particularly challenging?
There were different challenges for me. To point out a few, I would mention long meditations before lunch when I was hungry and long karma yoga time when I wanted to do my own things instead. I also had some digestive problems.

But the confrontation with those difficulties at a certain point always opened up to a new space of freedom, inspiration and well being.

What advice would you give to someone considering the three-month course?
Go for it, but prepare yourself by doing a two weeks course sometime before.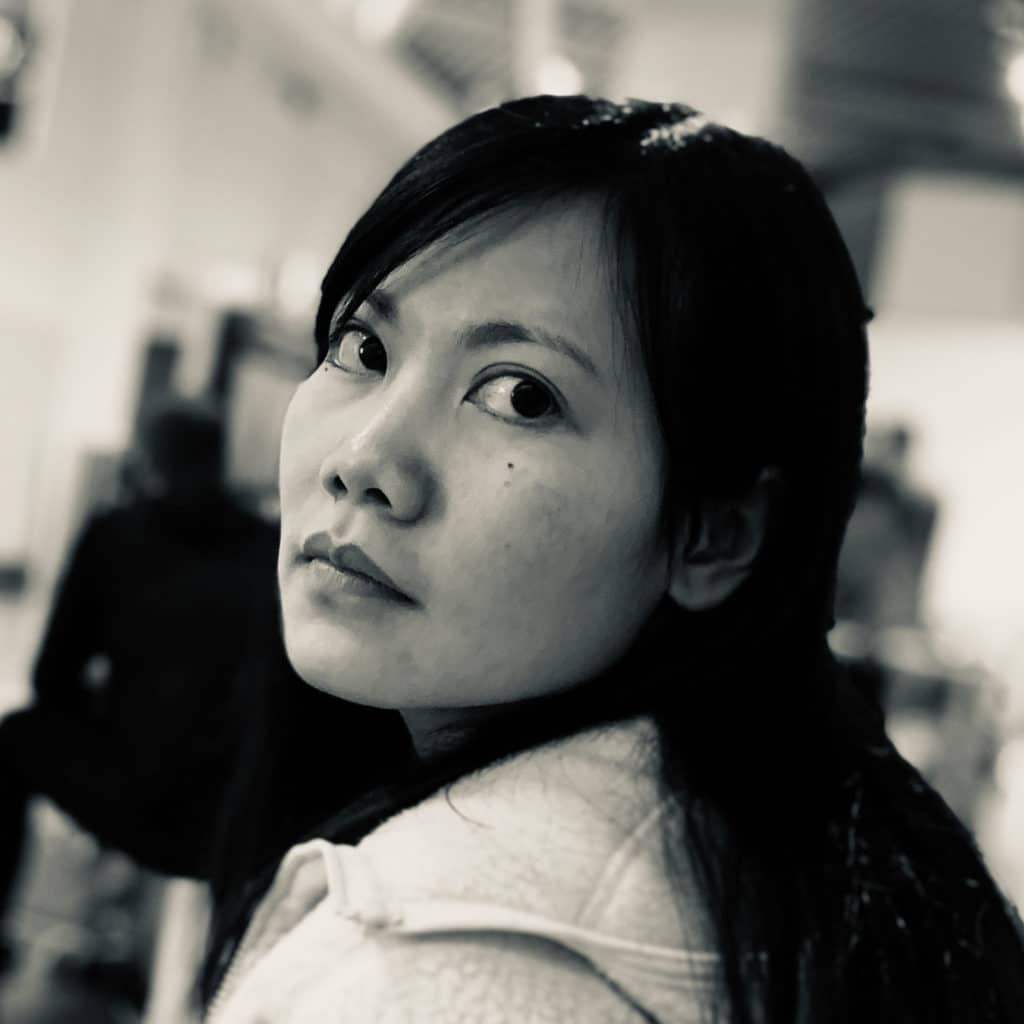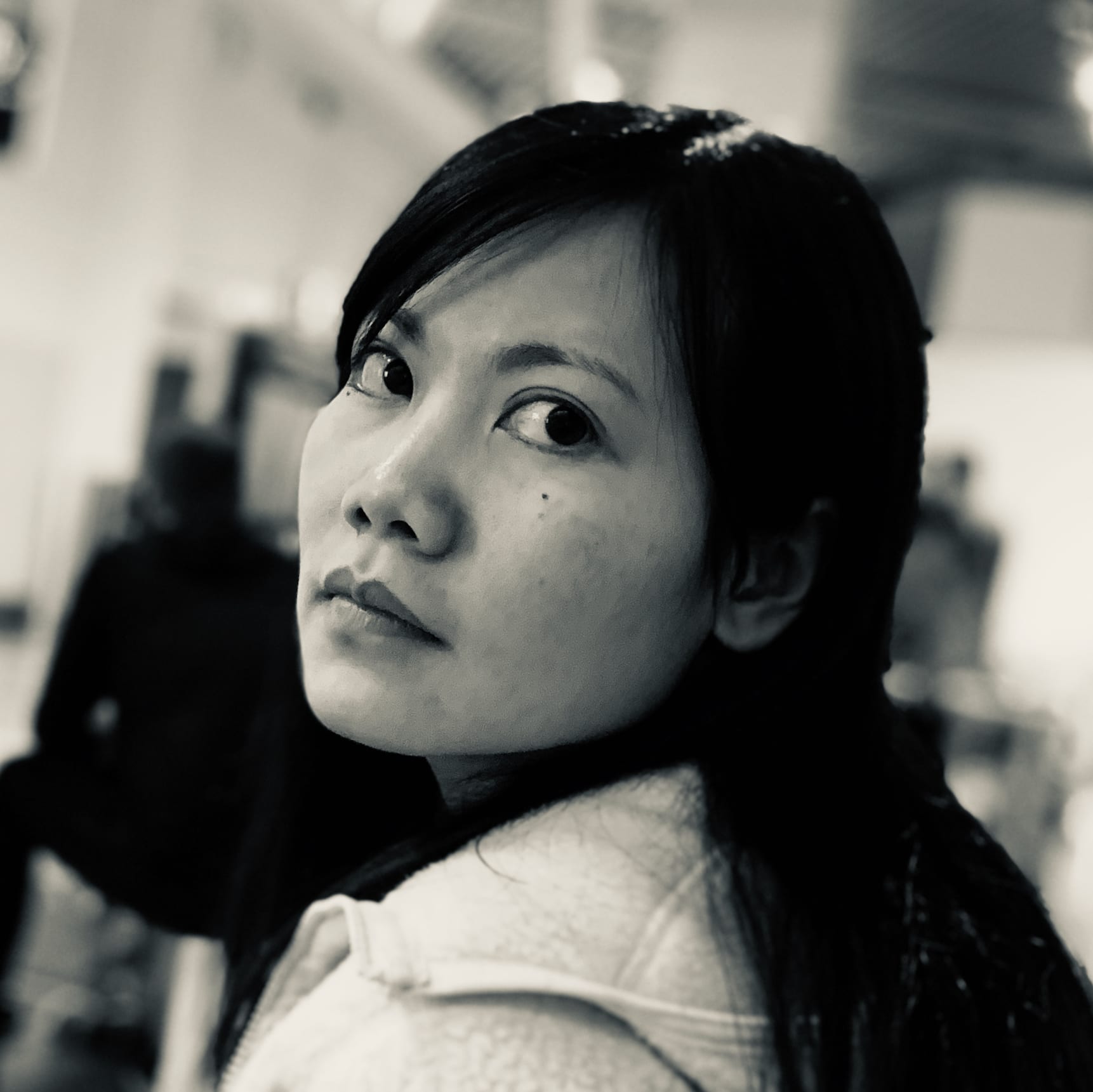 Testimonial
Jun Yi
Jun Yi is from China, but she lives in Paris, France. She was the first yoga teacher that I trained, and she did her first three-month retreat at Haa course center in 2013 and another in 2020. Jun had a natural talent for yoga, and I encouraged her to do this sadhana before starting her teacher training with me. She was 27 years old at the time.

What did you get out of the course?
I lost fear. I became brave and self-confident enough to face the anxiety that was limiting me. Just one example is that I dared to walk alone in the forest after dark. That was big for me. Years after the course, I still have this courage.
I had many deeply healing meditations where psychic knots were untied. Sometimes this came through as images sometimes as silent crying. I feel that I have a deeper contact with myself now, and I am more joyful. That also means the judgements of others have less of an impact on me now.
Is there something you found particularly challenging?
The monotony during the free time. I also, at times, felt intense restlessness and boredom.
What advice would you give to someone considering the three-month course?
This sadhana is a personal experience. Be a part of the group and enjoy the company of others, but don't focus on making friends.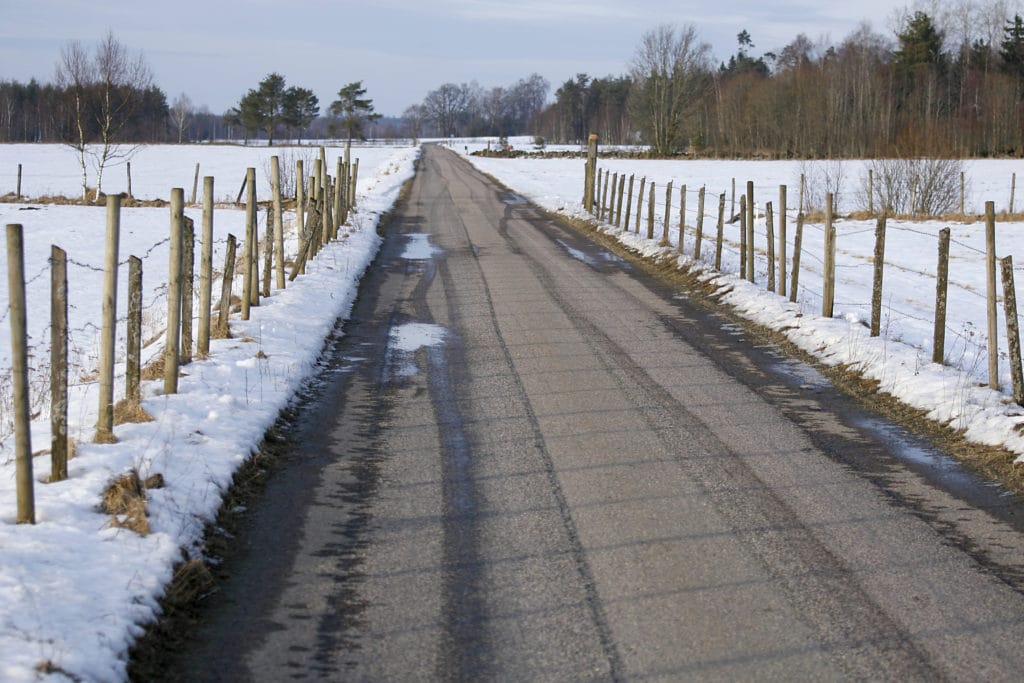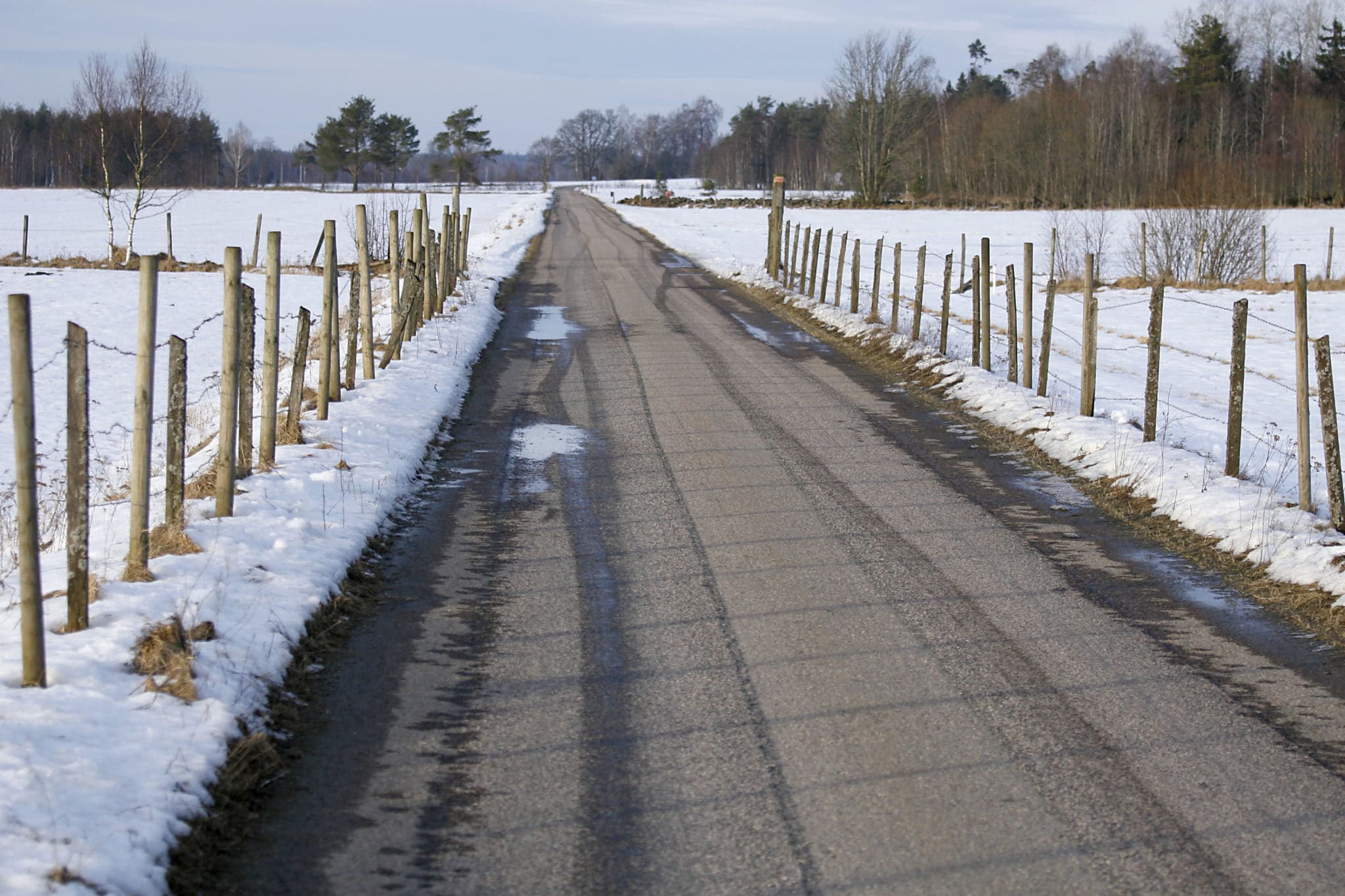 The teachings and teachers

The teaching style and organisation culture
One of the things I liked about Håå Course Center when I first got there was the "take it or leave it" attitude displayed by the teachers. The main teacher on that particular two-week Christmas course was Swami Janakanada himself. A fellow student who had already participated in the three-month course explained to me that in Haa it's "Janakananda's way or the highway", meaning that if you don't approve, your only option is to leave. That made sense to me. Why seek the guidance of a teacher if you don't intend to follow it?
But I could see that not everybody agreed. There was a young woman who had a hard time accepting the authoritarian teaching style and who even sought to convince others of her position. She soon left the course in anger.
I saw this again and again over the years. Those who have trouble falling in line and accepting the particularities of the the way the center organizes itself have a hard time. But every organisation has its unique traits, and its own methods of doing things. Fitting in is a question of maturity, and it does not mean that you have to agree with everything or that you would do the same things if you became a teacher yourself one day.


Do you count on yourself
so much
that you can accept
a few peculiarities on my part?

From the official course description
The story behind the three-month retreats
The man behind the three-month course is the Danish yogi Swami Janakananda. In the sixties, he spent two years training with the Indian yogi Swami Satyananda, the founder of the Bihar School of Yoga. At this time, Satyananda focused on teaching advanced hatha yoga techniques. He taught his most advanced methods during three-month retreats. And Janakananda brought this exact course format back with him to Scandinavia.
Janakananda kept a close relationship with his master but preferred to start his own organisation. Satyananda encouraged him and came on frequent visits for many years.
Swami Satyananda gave up the three-month courses a few years after and stopped teaching Kriya Yoga himself. According to Janakanda, Satyananda stopped in the middle of a retreat and sent his students home, complaining they were not ready. Since then Kriya Yoga has lost its importance and has practically disappeared in the Bihar Schools of yoga. The Kriya Yoga that they do teach is watered down, simplified and taught under sub-par conditions.

Swami Janakananda's unparalleled teaching experience
Swami Janakananda, on the other hand, has continued. He has now taught Kriya Yoga for almost 50 years, much longer than Satyananda ever did himself. Swami Janakananda has refined his three-month yoga retreat over the years and follows a precise protocol. Offering this retreat in the Swedish countryside is a much better setting than the one Satyananda proposed in crowded Munger. Around Haa nature is preserved, air quality is pristine and the landscape is calm.
Today Janakananda is more than 80 years old. Though he is still involved in running the retreats, most of the actual teaching is delegated to others, particularly his life partner Swami Ma Sita Savitri, who is his chief disciple.
I have never gotten kriya instructions from Ma Sita since during my time there Janakananda was still teaching them himself. But I know that Ma Sita is an excellent teacher. Among the senior teachers that I met during my time in the Scandinavian Yoga and Meditation School, I considered her to be one of the best.
Janakananda and Ma Sita live a couple of kilometres from the course complex. They come over only for teaching and keep quite a distance to students. You won't see them much outside of the yoga room.
In addition to the primary teachers, there is a whole team of young yoga teacher aspirants and volunteers helping out with the retreats as a part of their training. They take care of the basic teaching of asanas and pranayama. They organise karma yoga activities and assure that the logistics around the course run smoothly.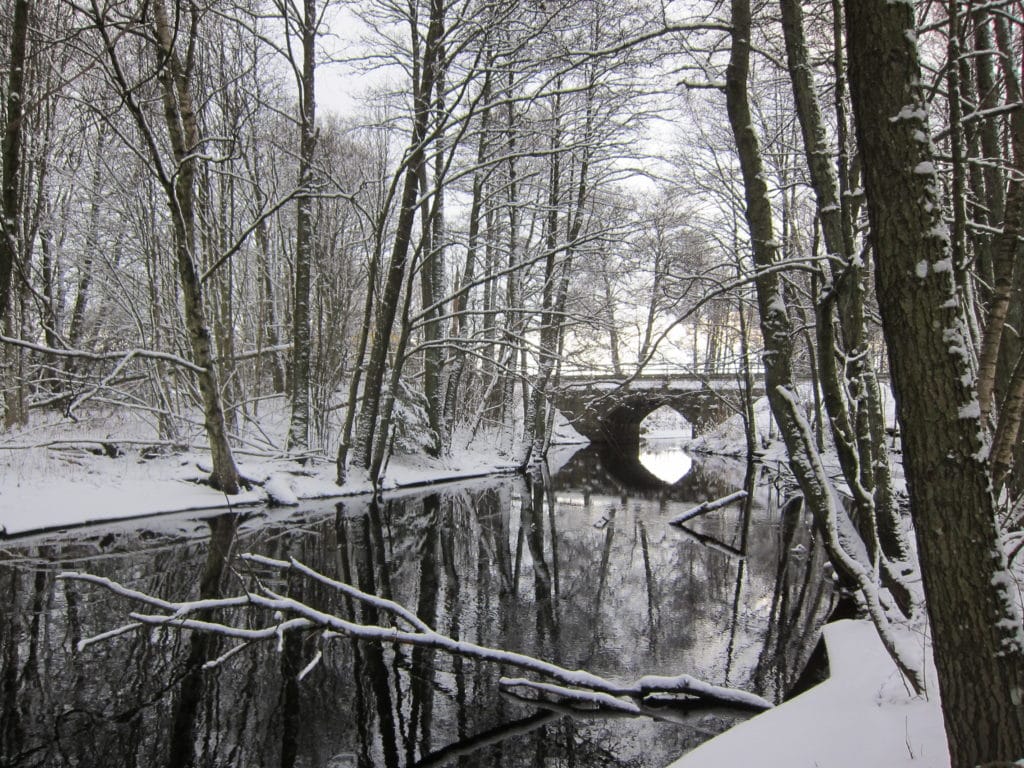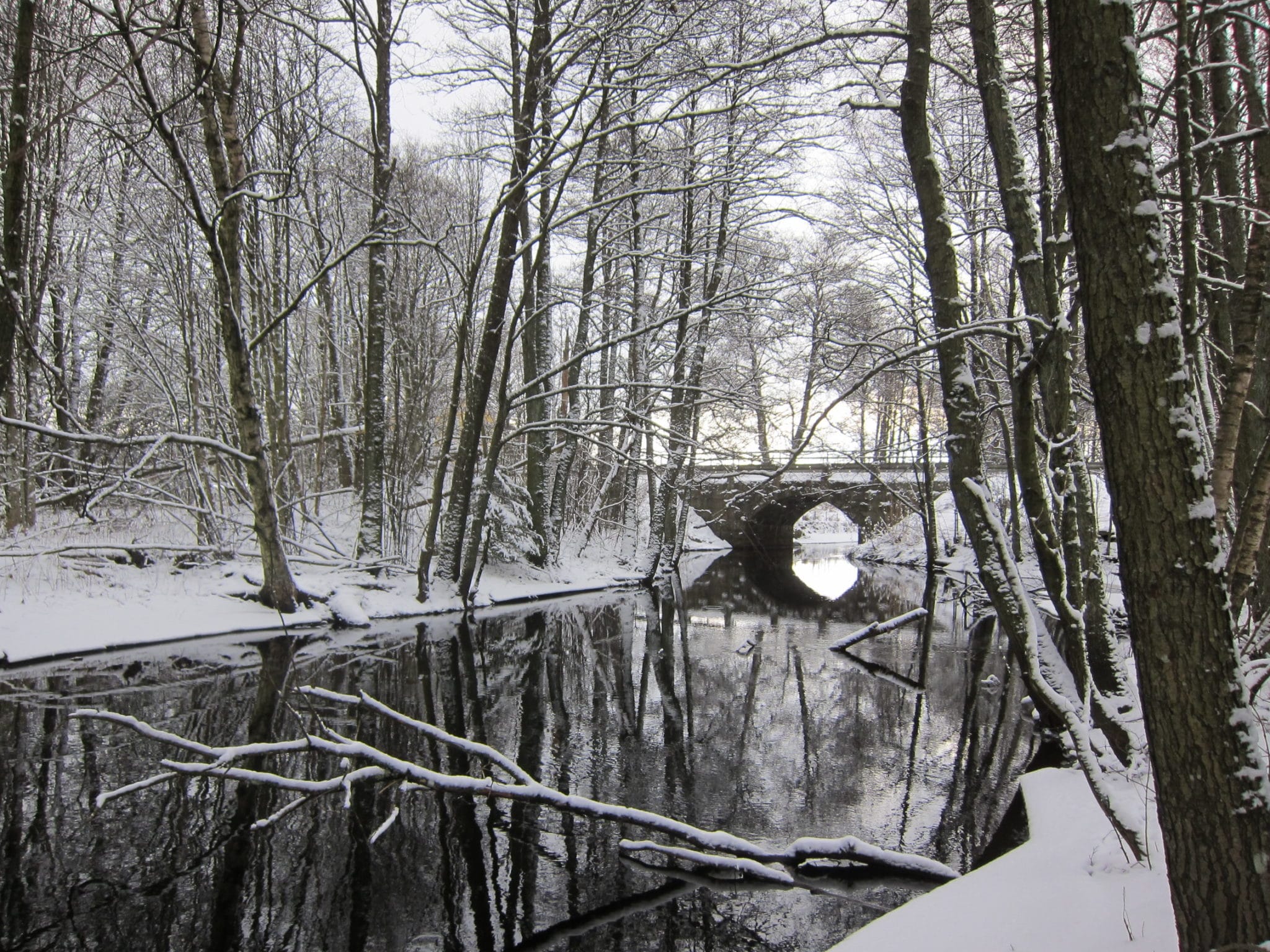 The unfolding of the retreat
The first five weeks are a warm-up period. During this initial phase, the teachers will focus on asanas, pranayama, concentration and basic meditation. What you learn during this period already goes well beyond what you would learn in most other retreat centres.
The learning is gradual and thorough, and you have the time it takes for your body, mind and energy to settle in and adapt. Time is crucial when learning advanced yoga, and these five weeks are essential to fine-tune your organism and to make it subtle and receptive for Kriya Yoga. You can't underestimate the importance of this preparation.

Asanas are not primary in traditional yoga
Today most yoga branches focused too much on asana practice. You should know that in old-school yoga, asanas do not play the same role. Until recently, yoga was above all associated with meditation and breath control. Most of the asanas that define modern yoga were hardly practised a hundred years ago. In traditional yoga, poses are, above all, a means to prepare the body and the mind for more subtle practices.
If improving your alignment, learning advanced poses and pushing your limits in postural yoga is what's important to you, then this retreat will disappoint you. It's not that kind of a journey.

The silence and Kriya Yoga initiation
After the initial warm-up, you will go into a period of silence. During this time of silence, you will learn Satyananda's Kriya Yoga. With 10 hours plus of practice every day, this phase becomes so intense that two sessions of karma yoga are needed each day to integrate and harmonise the effects.
During the learning period, you will practice the kriyas three times per day. The teaching protocol symbolically states that each instruction should be given 108 times so that the student will absorb the practice from sheer repetition.
Throughout this period, you continue to practice asanas, pranayama and regular meditation as support. These circumstances are ideal for pranayama, and you are likely to be able to explore this discipline in a way you have never done before.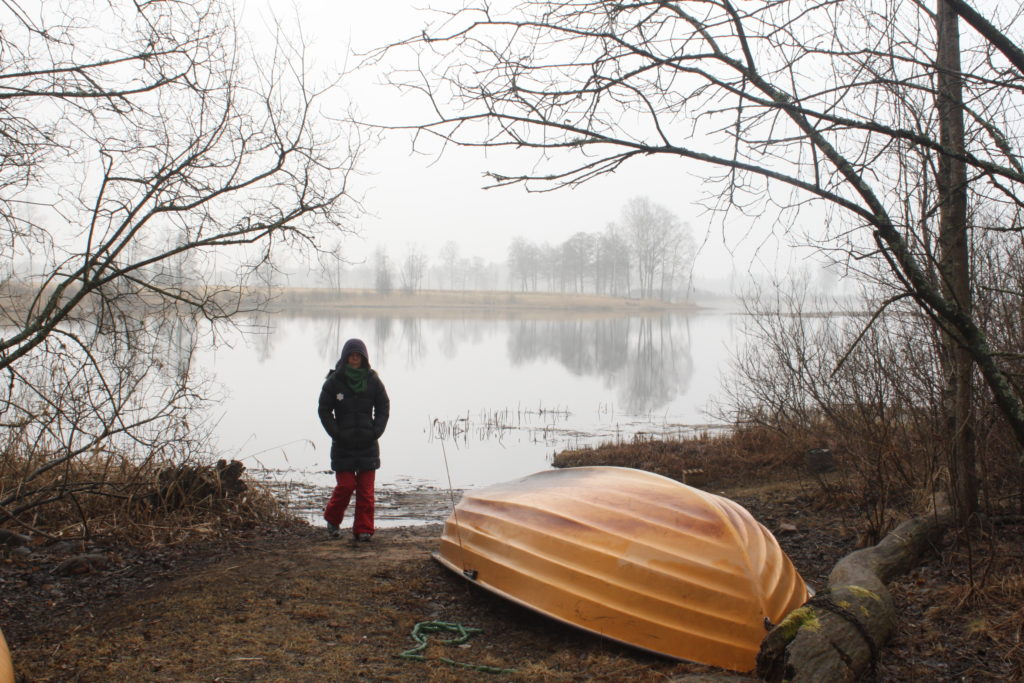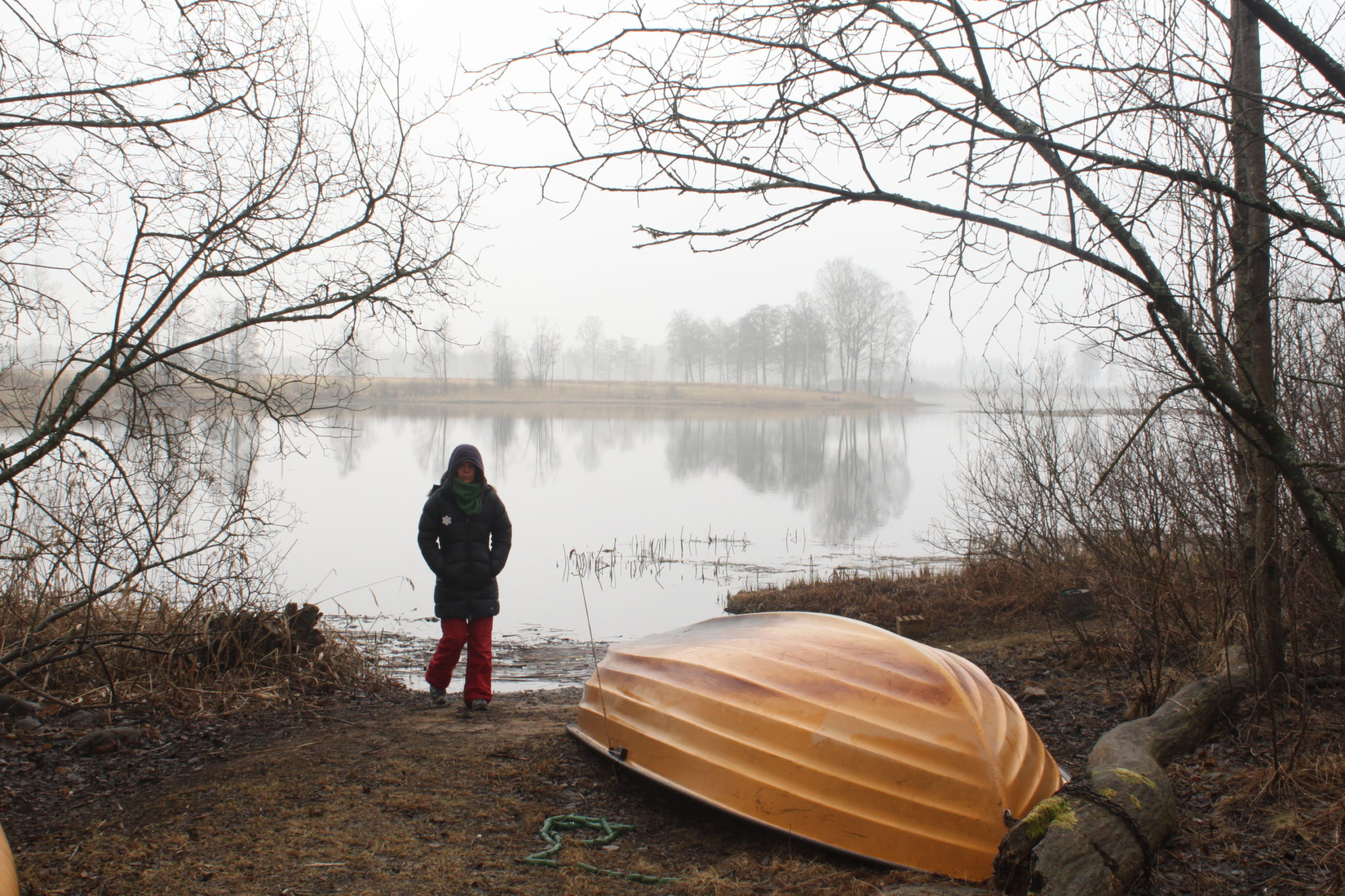 What kind of Kriya Yoga will you learn?
You probably know that different schools and organisations are teaching what they call Kriya Yoga. What makes it confusing is that Kriya Yoga is a generic yoga term with many different meanings.
The term Kriya Yoga was made famous by Swami Yogananda in his Autobiography of a Yogi. Yogananda belonged to the lineage of a yogi called Lahiri Mahasaya. However, he only taught a simplified version of Mahasaya's kriyas, and other teachers within his tradition criticised him for doing so.
Satyananda's Kriya Yoga is similar but not identical to the Kriya Yoga of the Lahiri Mahasaya lineage. According to the Russian yogi and writer, Ilya Zhuravlev, the full kriya practice of the Lahiri Mahasaya lineage and Satyananda's model match only up to around 30%. One significant difference is that the Mahasaya lineage requires full khecari before initiation.
To do the full khecari mudra you need to be able to insert your tongue in the hollow space over the soft part of the palate. To achieve this, you have to either cut the frenulum or stretch it daily for months or even years. Full khecari is not part of the Satyananda tradition (and not of Yogananda's Kriya Yoga either). Instead, a simplified version of khecari that everyone can do is used.


The origins of Swami Satyananda's Kriya Yoga are unknown
The exact origins of Satyananda Kriya Yoga remain unknown, and Satyananda himself gave contradictory explanations. We can only speculate as to why he did. What is known is that these methods are standard practices which span across several medieval yoga traditions. They have been maintained by different lineages through time, so no-one is really in a position to either claim nor own an original unaltered version of Kriya Yoga.
Haa Course Center does claim anyway that what they teach is the original authentic Kriya Yoga. On their homepage they have written that it comes "directly from the source", a statement that is clearly very hard to back up with facts.
Yet in my opinion, the Kriya Yoga taught by Swami Janakananda does not need to rely on myths. It is powerful in its own right and the conditions Haa Course Center provides for learning are outstanding.

The last weeks of the course
The intensity of the retreat peaks during the Kriya period. During the final three weeks of the course, the focus is on consolidating the Kriya practice. But there is also time to learn other advanced meditation techniques. The end of the course is calm and enjoyable. You feel that the challenges are behind you and that you are reaping the fruits of hard work.

A tough course with a lot of dropouts
No matter how inspiring this three-month yoga course can be for some, it's also a tough ride for others. Every year a considerable part of the participants drop out.
It is nothing unusual for yoga and meditation retreats that participants drop out, on the contrary. But given the length and intensity of this particular programme, the dropout rate is probably on the high side. At least 25% of the participants abandon the course every year, and not just beginners. Even practitioners with years of experience give up.
People discontinue for all kinds of reasons. In spite of the thorough course description on the ashram's home page, some project their expectations onto what they read and come intellectually unprepared. I recommend you read the course description very carefully. Swami Janakananda has worked on this description for decades, and he has chosen every word with great care.
Others who leave the course find it hard to accept the rigorous teaching format. The majority of those who abandon do so because they lack sufficient motivation in one way or another.

There will always be
a lot of reasons for
avoiding what
you really want to do

From the official course description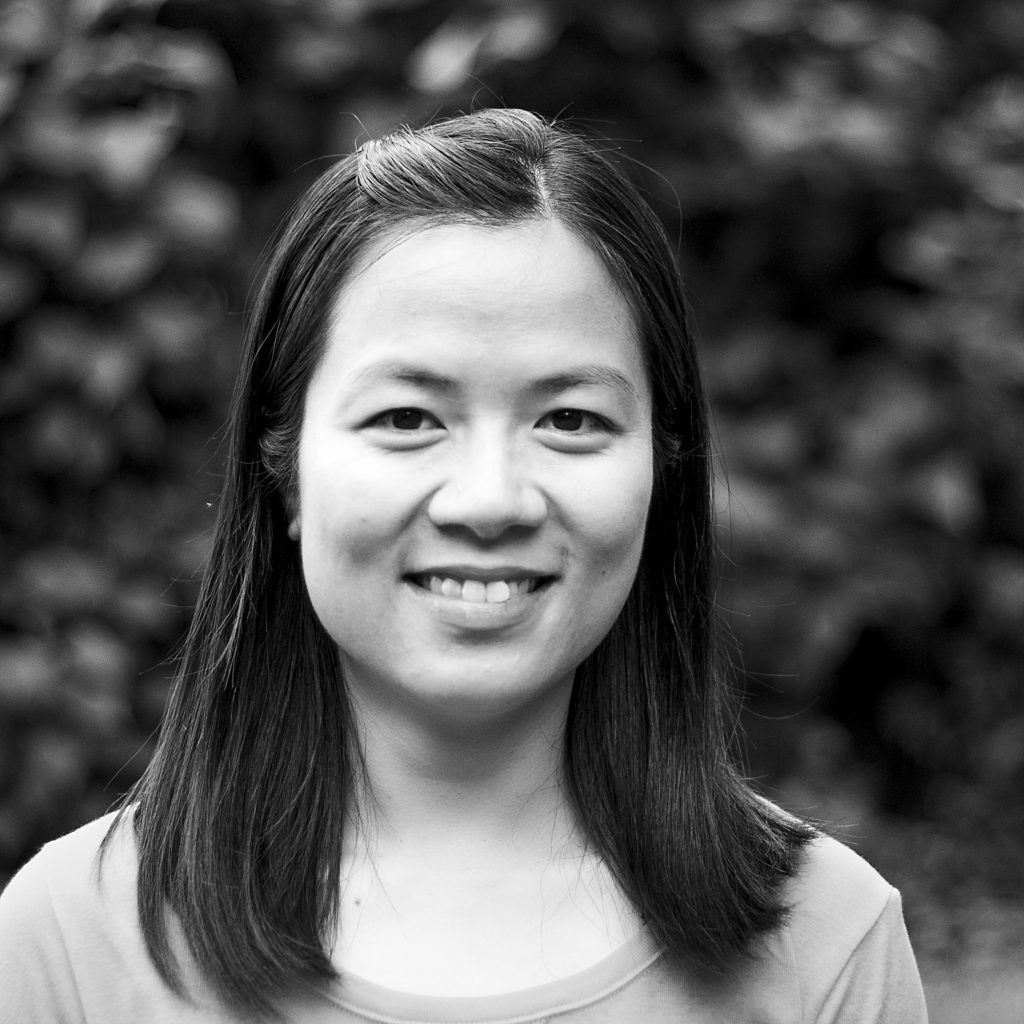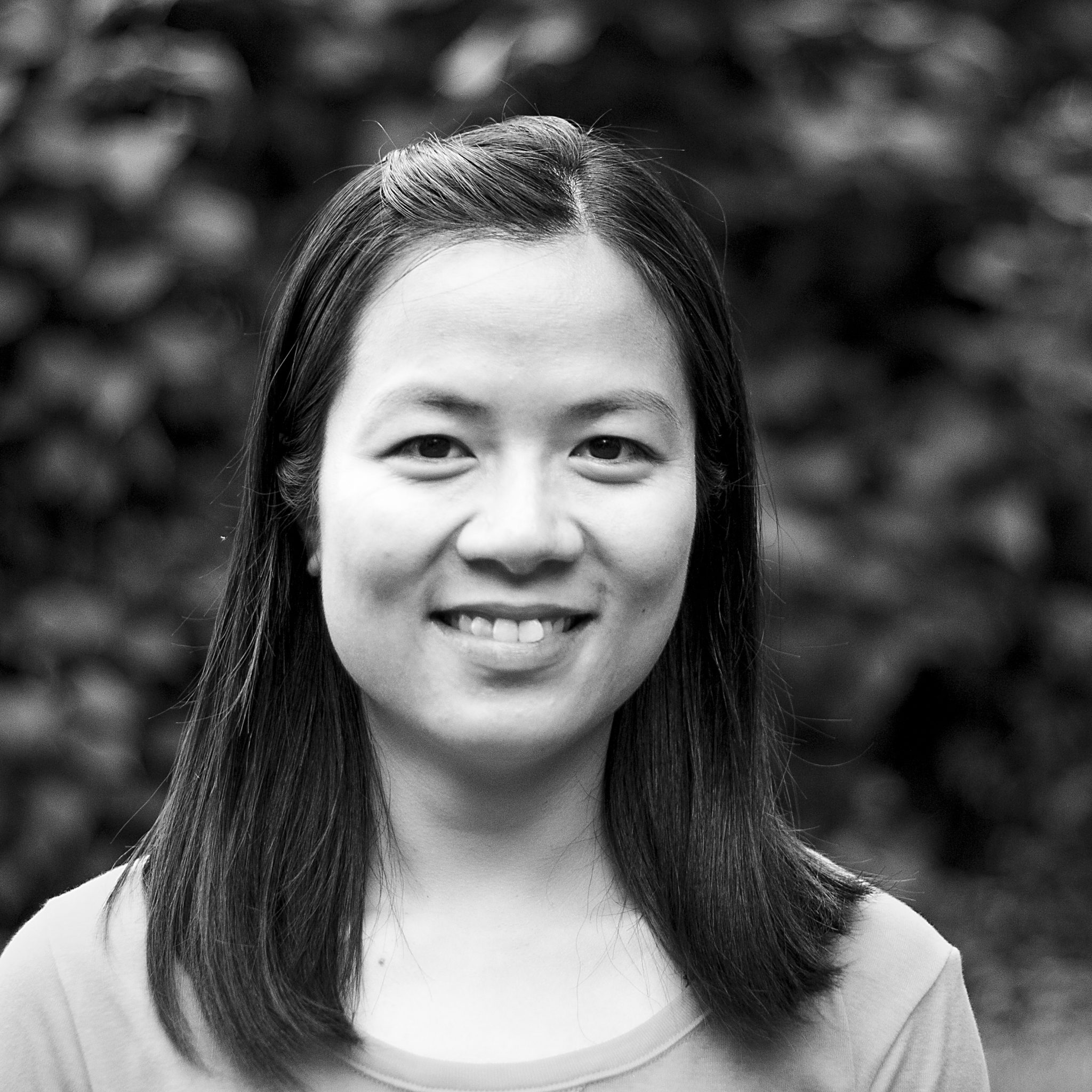 Testimonial
Thu Trang Luu
Trang is from Vietnam, and she was 33 years old when she participated in the three-month course in 2017. She got to know about the course, thanks to her yoga teacher (that's me).

What did you get out of the course?
I gained greater insight about myself. People expect most of the time transformations of the before/after kind. For me, things are much simpler. I am still me with all my doubts and weaknesses, but today, I am more at peace with all that. I still get out of balance or drift from my center, but I can get back to my inner balance faster.
Also, this experience raised new strength and higher self-esteem in me. I now believe that whatever I want to do with my life, I can find a way to reach my goal with happiness and serenity. The experience also helped me to open my mind. Living in a community for that long, in such conditions requires us to be tolerant and learn to enjoy the good in everyone.

Was there something you found particularly challenging?
To be silent on the inside. You can stop talking, but words don't just come out of your lips but your mind, just like a monkey, keeps jumping and wandering and chatting.

What advice would you give to someone considering the three-month course?
Practice hard at home before you go. Even if the retreat is open for beginners, if you know nothing about this practice, it would require a great deal of effort to keep up with the rhythm and stick to the retreat until the end. And, let go. Let go and take each day as it comes!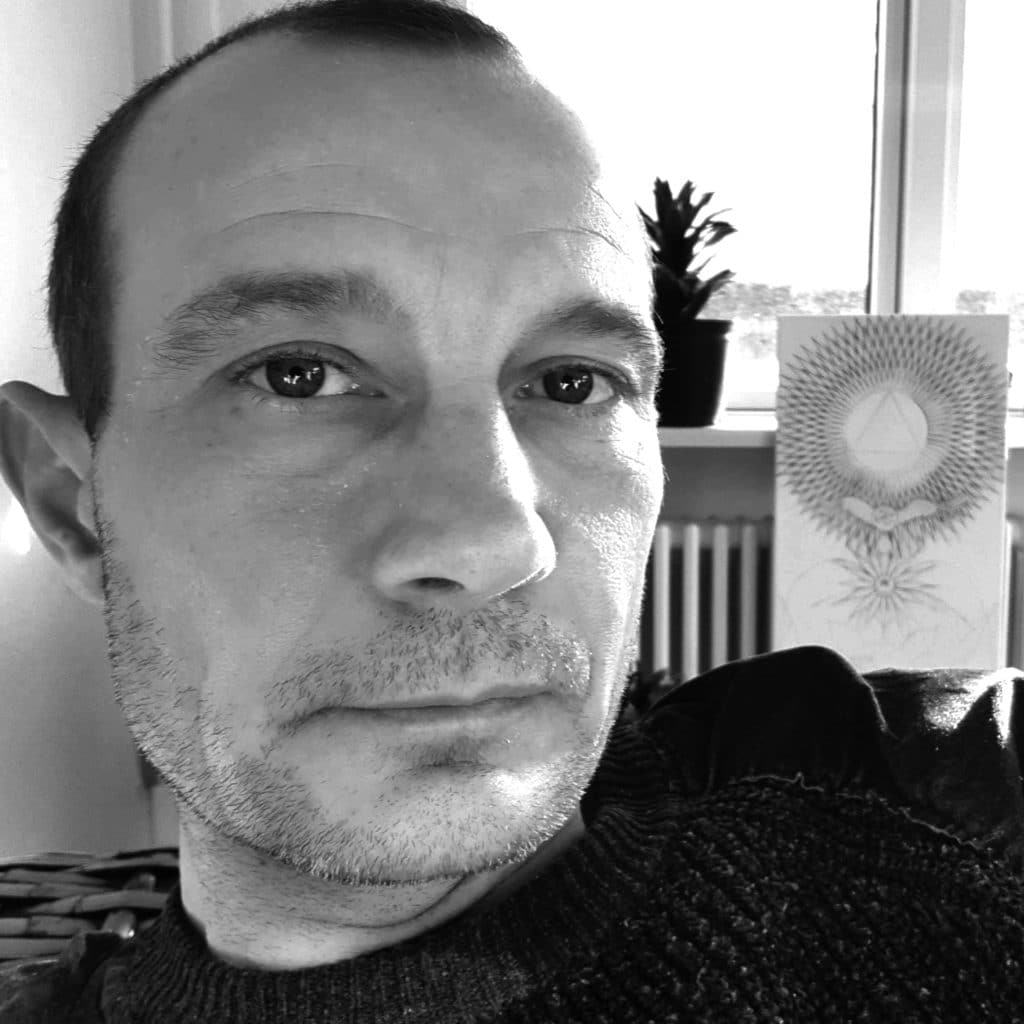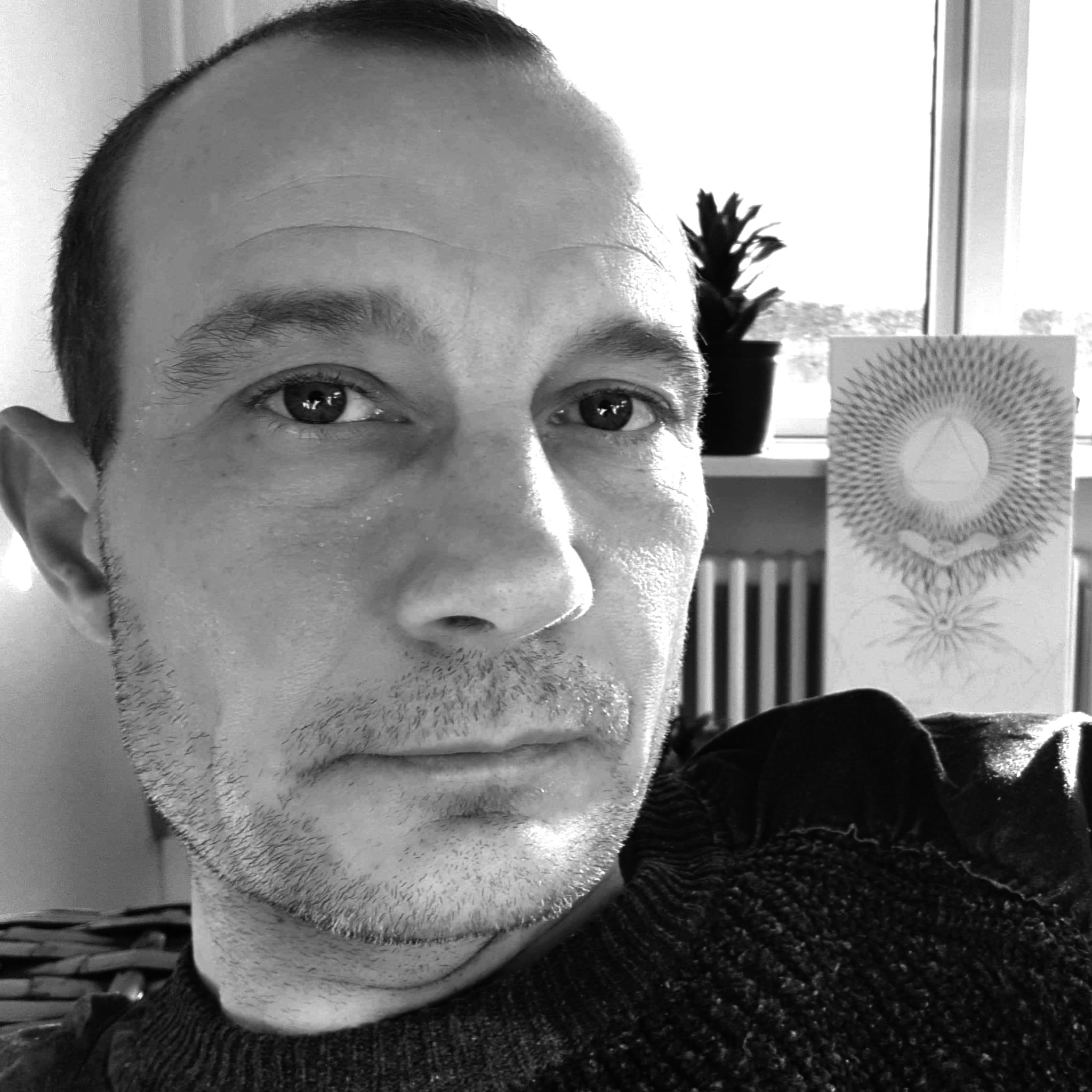 Testimonial
Sune Tristan Sommer
Sune Tristan Sommer from Denmark participated for the first time in the three-month yoga retreat at Haa Course Center in 2016. He got to know about it during a five day retreat the autumn before. During his first three-month course Sune says he got caught up in his mind. Thus he left after the fifth week. He enrolled the next year again and completed the course this time.

What did you get out of the course?
The course gave me a profound sensitivity to and awareness of life inside of me and around me. I reached the insight that I freely can choose the life I want. However, I am still not sure what I want though. The course was also a thorough bodily cleansing.
Was there something you found particularly challenging?
Letting go of socially inherited mind patterns was one challenge for me. Another one was to accept my limitations and pain from injuries I suffered some decades ago. Then the rhythm of the retreat was exhausting for me, and I became very sensitive.
What advice would you give to someone considering the three-month course?
Enjoy whatever state of mind that you are in. Let go of prejudices and of whatever you think you know about your body and of yoga. Engage in karma yoga when it gets tough, even if you feel that you can hardly stand up.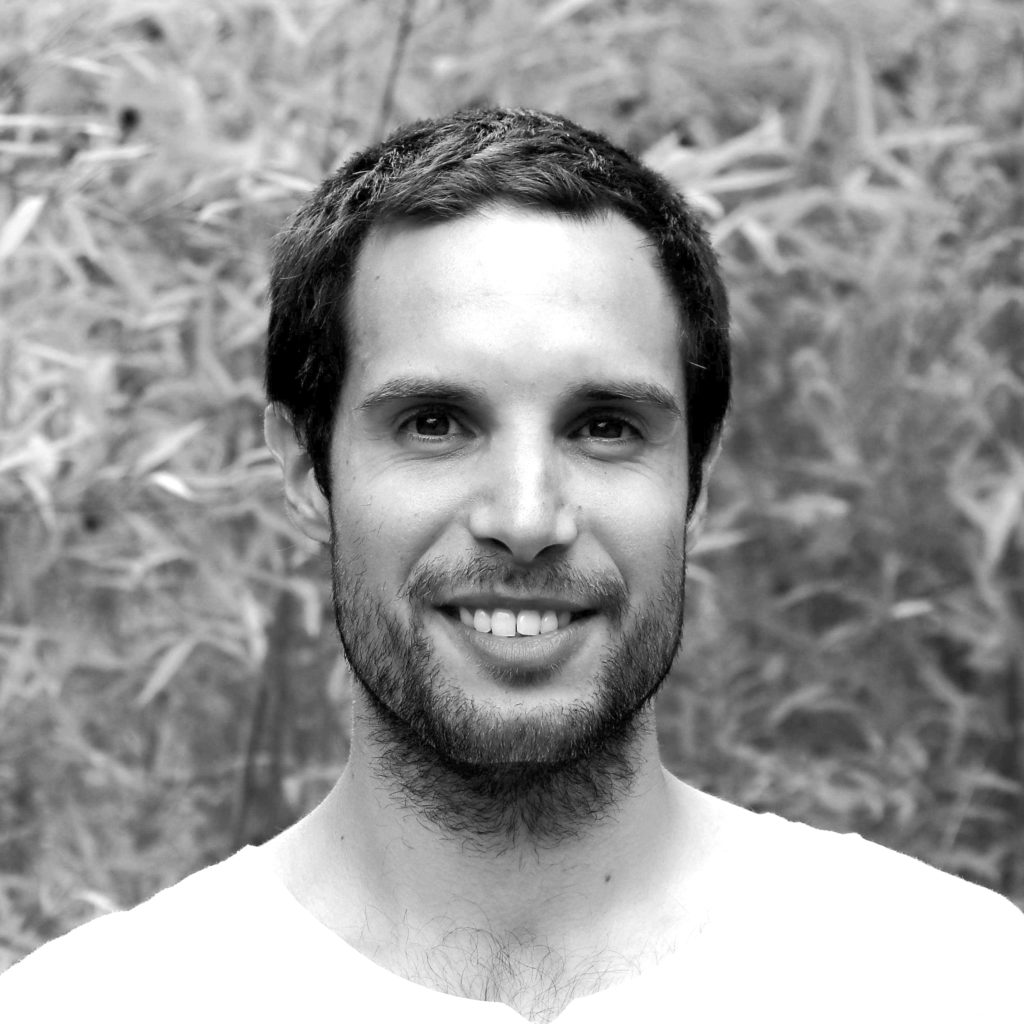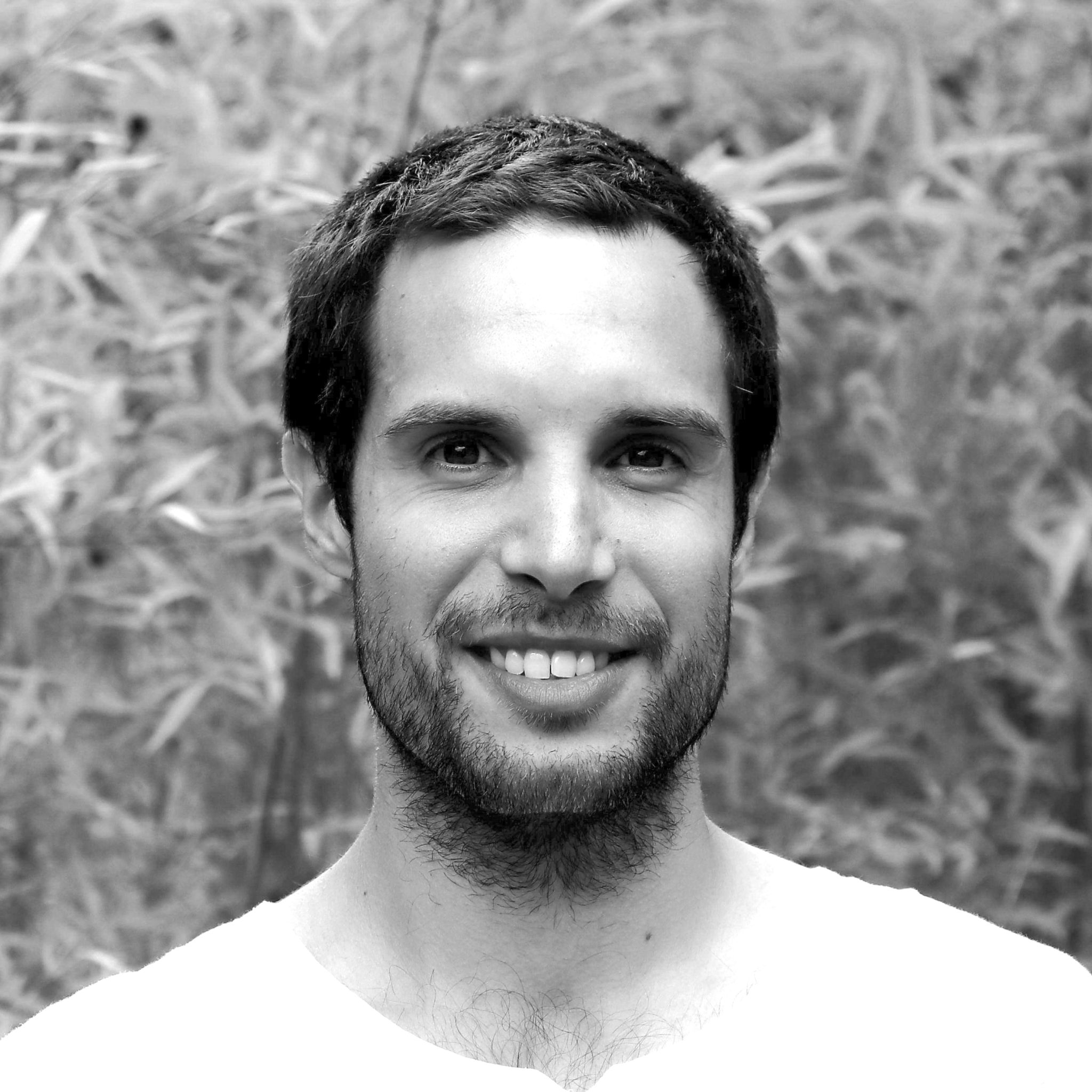 Testimonial
Romain Parent
Romain participated in the three-month course in 2017 when he was 24 years old. He learned about the course on my website and did a five-day intensive with me in Paris before going.

What did you get out of the course?
I got a lot out of the course. Some long-lasting psychosomatic tensions were released, so I felt a lot lighter. I was also more in touch with the subtle dimensions of my being, like the nadis and chakras. I could feel the flow of energy in my body after the course. I was more sensitive to everything and a lot more creative. Also, I found a sense of autonomy. As my body felt more and more ecstatic, the tendency to search for happiness outside of myself was slowly dissolving.
Was there something you found particularly challenging?
Personally, I did not find it very challenging. I enjoy very much being in silence, and I was deeply interested in what we did. The interest and passion were making the difficulties looking very small.
Nonetheless, there were plenty of moments where it felt like a tornado was stirring inside. Many emotions, thoughts, confusion and old unpleasant patterns were coming to the surface to be seen, understood and resolved.
What advice would you give to someone considering the three-month course?
I would advise surrendering into the course fully. Don't overthink, just follow the practices. If you feel that there is too much going on inside, go out and take long walks, it will help to ground yourself.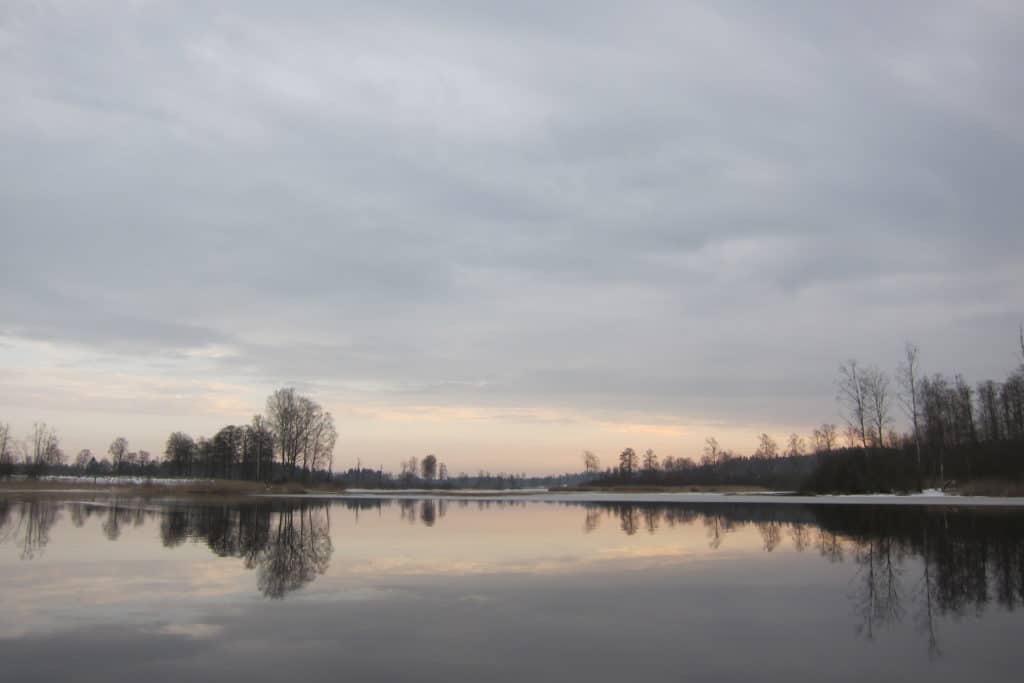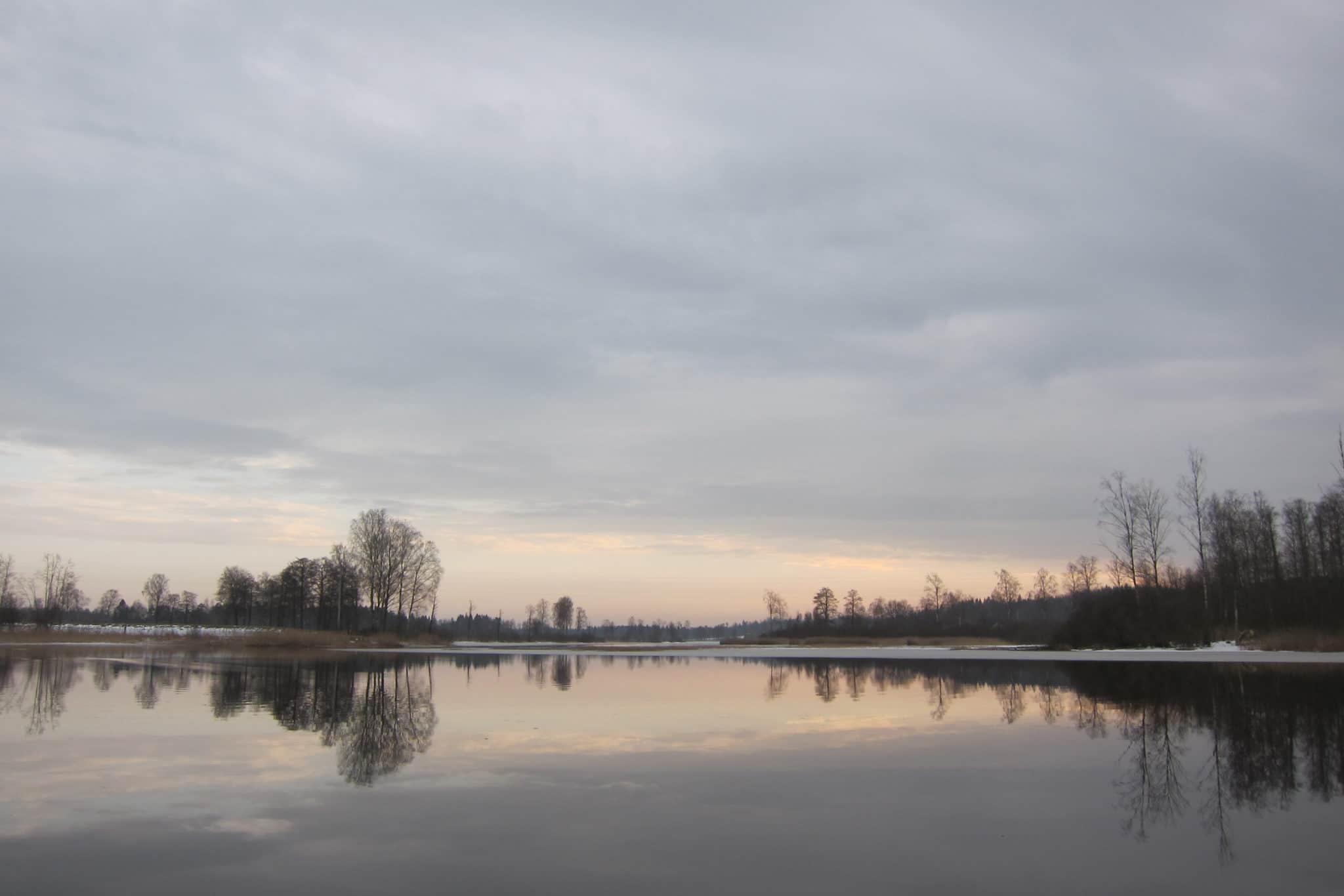 Is the three-month course getting expensive?
The three-month course 2020 costs 40,050 SEK or 3,890 euros. This covers, teaching, food and comfortable accommodations for three months.
Some of my students who consider the three-month yoga retreat find that to be a bit pricey. And in fact, the three-month course used to be a lot less expensive. The last 20 years prices have gone up with at least double the Swedish consumer price index. For reference in 2000, the course cost 20,400 SEK.
However, at the same time, accommodations have progressively become more comfortable as the center has been renovated and improved. Besides, the maximum number of participants has been lowered, vouching for more teacher time per student. Overall the center has become more professional, for better or for worse.
Compared to luxury retreats in resort hotels, yoga retreats at Haa Course Center are reasonably priced. But at the same time, you can find other donation-based retreats around that theoretically could cost you next to nothing.
Taking donations instead of fees is an attractive model for retreat organisers since donations are tax exempt. But on these retreats, you are expected to give back somehow. Hence you have to endure long pep talks on the benefit of generous charity. And another, pitfall is that you won't find anything that resembles the three-month course in any other type of retreat.
I think the price of the three-month course is still fair. But I hope they will not keep raising the rates further. I am afraid that high prices will direct participant recruitment for the retreat towards the comfortable upper middle class and that in the long run this will impact its intensity and authenticity. The shorter retreats at Haa Course Center have already become less demanding to cater to new audiences.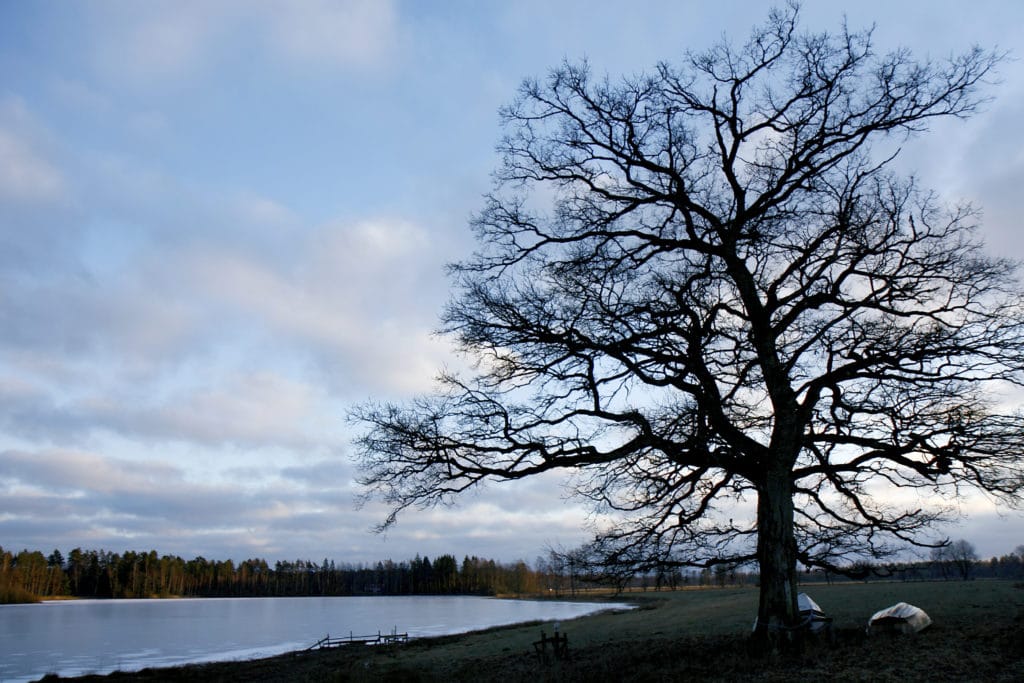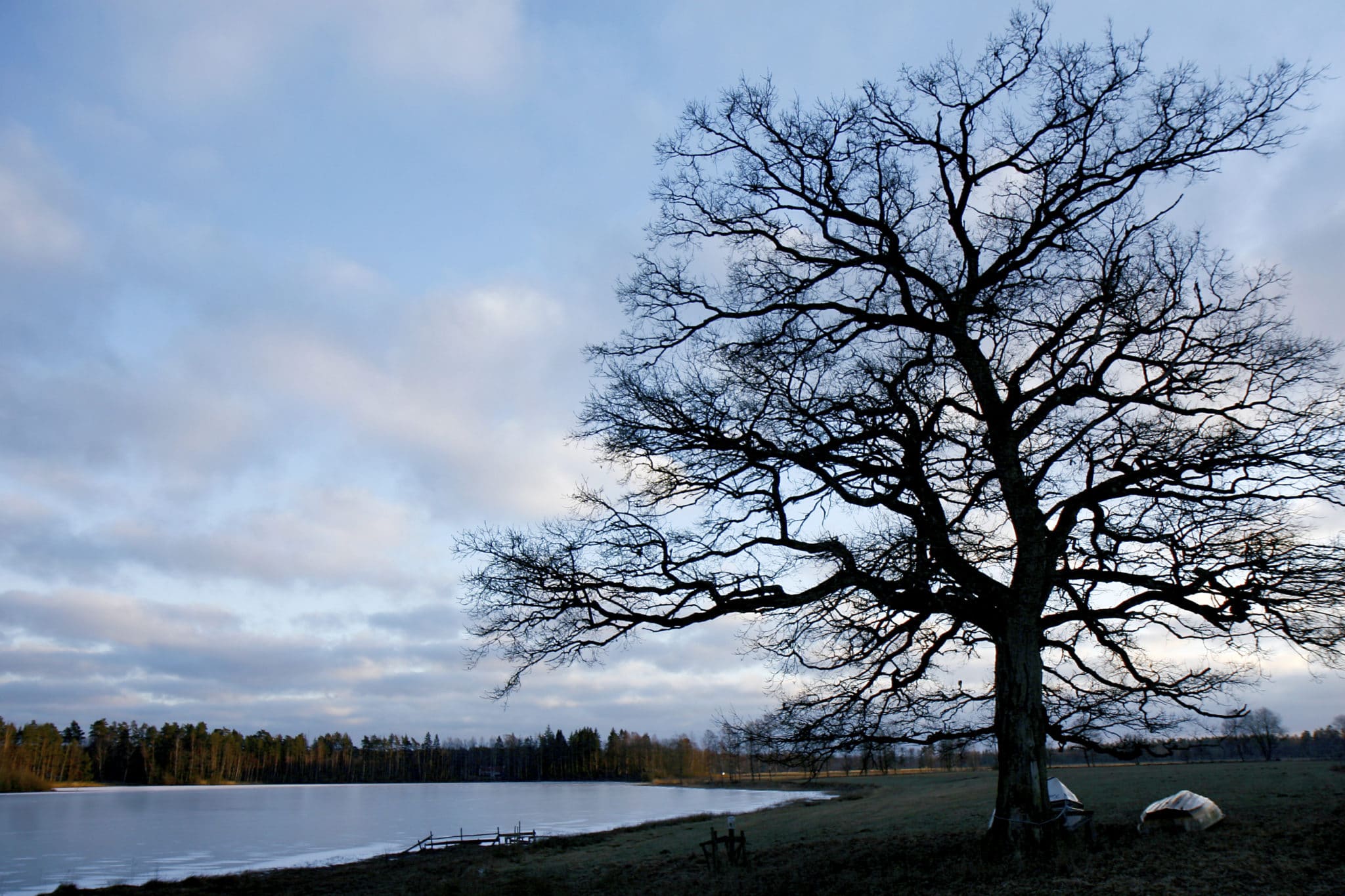 My advice to those considering the three-month course

The retreat is open for beginners, but you will want to prepare yourself anyway
Total beginners and advanced yogis alike are admitted to participate in the three-month sadhana course.

"What's required to participate?" you may ask.
Two things only – your commitment to be involved in an intense sadhana period and your desire to explore your dormant faculties.

From the official course description
The lengthy preparation period justifies accepting beginners to this advanced programme. The first couple of weeks could even feel a bit slow for veterans. But the slow buildup is beneficial and gives ideal learning circumstances for everyone.
However, even though beginners often do well on Swami Janakananda's three-month retreat, they are more likely than experienced participants to run into difficulties. Also, keep in mind that you can do a course like this on different levels. Though you might manage to finish the course if you come unprepared, you could get a lot more out of it if you had more experience.

To whom do I recommend the three-month course?
I encourage only those who have significant experience with yoga and meditation to participate. As a teacher, I don't want to contribute to sending someone unprepared to this course. That is both for the sake of the individual participant, for the fellow students and for the teachers.

How to prepare for this sadhana?
One of my motivations for writing this review is to help people get a good experience. Therefore I advise everyone who is going to participate to prepare themselves thoroughly. To get the most from this retreat daily practice during the preceding months is required.

If you have little or no experience with the yoga of this particular tradition, I don't recommend you enrol without trying it out first. Yoga styles are so different that even if you have practised for years within one yoga style, you might be surprised about the practices, approaches and attitudes adopted by others.
If possible practice with one of the Scandinavian Yoga and Meditations School's city centers first and preferably also take part in a two-week retreat in Haa.
Another possibility is to practice with Swami Janakananda's yoga book, Yoga Tantra and Meditation in my daily life. That was how I started out.
You can also prepare yourself using my website, Forceful Tranquility. It is a good option if you don't live close to a yoga school teaching in this tradition. On this site, I teach yoga and meditation with audio recordings. You learn the same techniques that you practice during the first weeks of the three-month course. The teaching format is identical to that used in the city centers affiliated to the Scandinavian Yoga and Meditation School. However, I have made the sessions slightly longer, as I am a particularly thorough teacher.

Final thoughts
The three-month course is an excellent retreat that will allow you to experience some of the most potent yoga techniques there are. If you do decide to participate, then arm yourself with an open mind and with willpower. Prepare yourself as much as you can in advance, and once the course starts, surrender to the process.
Special thanks to Jun Yi, Jean-François Ereau, Claus F. Hansen, Aine and Andreas for letting me use their pictures, and to Philippe Bensacq, Jun Yi, Thu Trang Luu, Sune Tristan Sommer and Romain Parent for their testimonials.
Was this article helpful?