It isn't wise to do yoga right after a meal. If you are into yoga, you surely have been told that already several times before. But what is the reason? And how long should you wait before practicing? And do you need an equally long time to digest your food for all types of yoga practices? Let's take a closer look together.
What can happen if you do yoga on a full stomach?
If you don't listen to your yoga teacher and practice right after a meal, you will face several problems.
You will experience general discomfort.
You could get nauseous and might throw up.
Your ability to control your breath will be obstructed.
You will be less flexible.
You are going to be less alert and could fall asleep in relaxing poses.
It will be challenging to tune into subtle energy sensations.
Let me explain more.
General discomfort
If you are still full from your last meal, you will experience discomfort doing any yoga poses. That is especially true if the poses involve breathing synchronisation and retentions. You will feel heavy, and there will be a sense of uneasiness. Your body will not be in the mood for yoga.
Nausea
General discomfort is only the beginning. In addition, practices engaging the belly can cause nausea, and you might even vomit. On a few rare occasions, I have had students leaving the yoga room to do just that. The reason: eating too close to practice.
Hampered breath control
The breath is even more sensitive to a full stomach than poses. Unless you have fully digested your last meal, holding your breath or slowing it down is much more challenging. Without enough time to digest, pranayama is out of the question. If you practice too early, you are neither going to enjoy pranayama nor benefit from it much.
Less flexibility
According to my personal experience, when my belly is empty, I am somewhat more supple. I can more easily get into demanding yoga poses, and it is more comfortable to stay in them. People combining yoga and fasting confirm this.
Sleepiness
If you do yoga right after a meal, when your body is busy digesting, a lot of your energy goes to the abdominal area. That means that you will be prone to drowsiness, and you can easily fall asleep. That is particularly problematic for relaxation poses. But in addition, pay attention if you have a problem with sleepy meditations.
Numbness to energy
The above reasons should by themselves be enough to persuade you not to do yoga on a full stomach. But there is yet another one, and from the point of view of a yogi, it is crucial.
Prana is the subtle energy that underlies the physical dimension. An essential element of yoga is to stimulate prana and make it circulate more freely. When your body is digesting, you will be much less sensitive to it.
How soon after eating can I do yoga?
Now you know why it's such a bad idea to practice yoga too soon after eating. The natural follow up question is how long you should wait before beginning to practice.
My short answer is that you have to wait four hours after eating for optimal practice. However, the time you need for digestion is not the same for all practices. You can do certain techniques sooner than others.
Below, I have made a list showing how the required time after a big meal varies. These are my estimated minimums for an acceptable practice. But do keep in mind, you will get the best results if you have digested completely.
Straight away
Nose cleansing – Neti
Vhyagra kriya
Vajrasana
For these yoga techniques, you don't need to wait at all. You can do them right after eating.
2 hours
Light movements and easy yoga postures
Yogic eye exercises
Yoga poses done as physical exercise
You can do other simple, accessible practices relatively soon after eating.
2 hours and a half 
Mindfulness meditation
Antar Mauna
Vipassana
Giving yourself enough time after a meal before meditating is crucial to stay awake and alert while meditating.
3 hours
Demanding postures and inversions
Yoga poses as a meditative practice
Pranayama, mudras and bandhas
Meditation involving ujjayi pranayama
Advanced yoga practices require more digestion time.
4 hours
If you want to benefit fully from challenging practices involving the breath, four hours for digestion is necessary.
12 hours
Shakprakhashalana is a cleansing process. You purify the entire digestive system by drinking saltwater. This method requires at least 12h of digestion for safe and comfortable practice.
Is practising on an empty stomach ideal for everyone?
Nearly everyone will get the maximum benefit from doing yoga on an empty stomach. That is one reason why yogis recommend early morning practice. In the morning, you have hade all night to digest. There are exceptions, though. People who quickly faint due to low blood sugar might have to snack between meals. The same goes for people with diabetes who might need to snack to keep their blood glucose as close to normal as possible.
However, the fear of being hungry is not a reasonable excuse. From having been involved in organising dozens of yoga retreats, I have encountered various hangups about food. For example, some people get uneasy when they can't eat as soon as they feel the urge.
Once in a while, retreat participants explain that they need to eat in the morning before doing yoga. Not having breakfast seems too much. Unless they have a medical reason, I always encourage them to respect the schedule of the retreat. Once they overcome their reluctance, there is no problem.
Three yoga practices to speed up digestion
If you lead a busy life and practice yoga on a tight schedule, you might find it challenging to have enough time for completing your digestion. The same is true on yoga retreats where you want to fit in three, four or even five yoga and meditation sessions per day. At the same time, people need to eat. Wouldn't it be good if you could speed up your digestion? Well, you can. Here are some examples of the best yogic ways to assimilate your food more quickly.
Asana and pranayama
A daily practice of asana and pranayama allows you to absorb food more quickly.
Vajrasana
Sitting in vajrasana for ten minutes after a meal helps concentrate energy in the abdominal area and make digestion faster.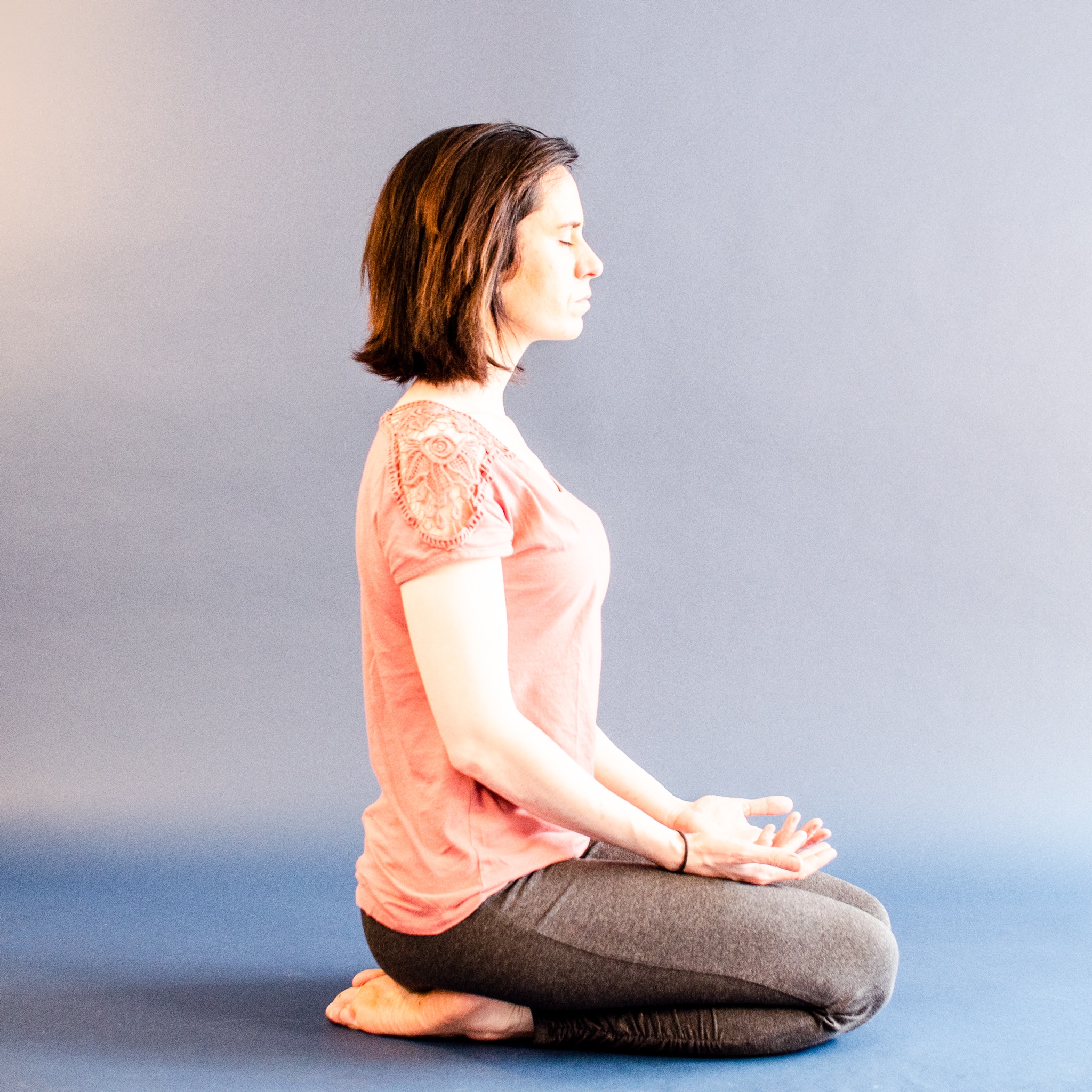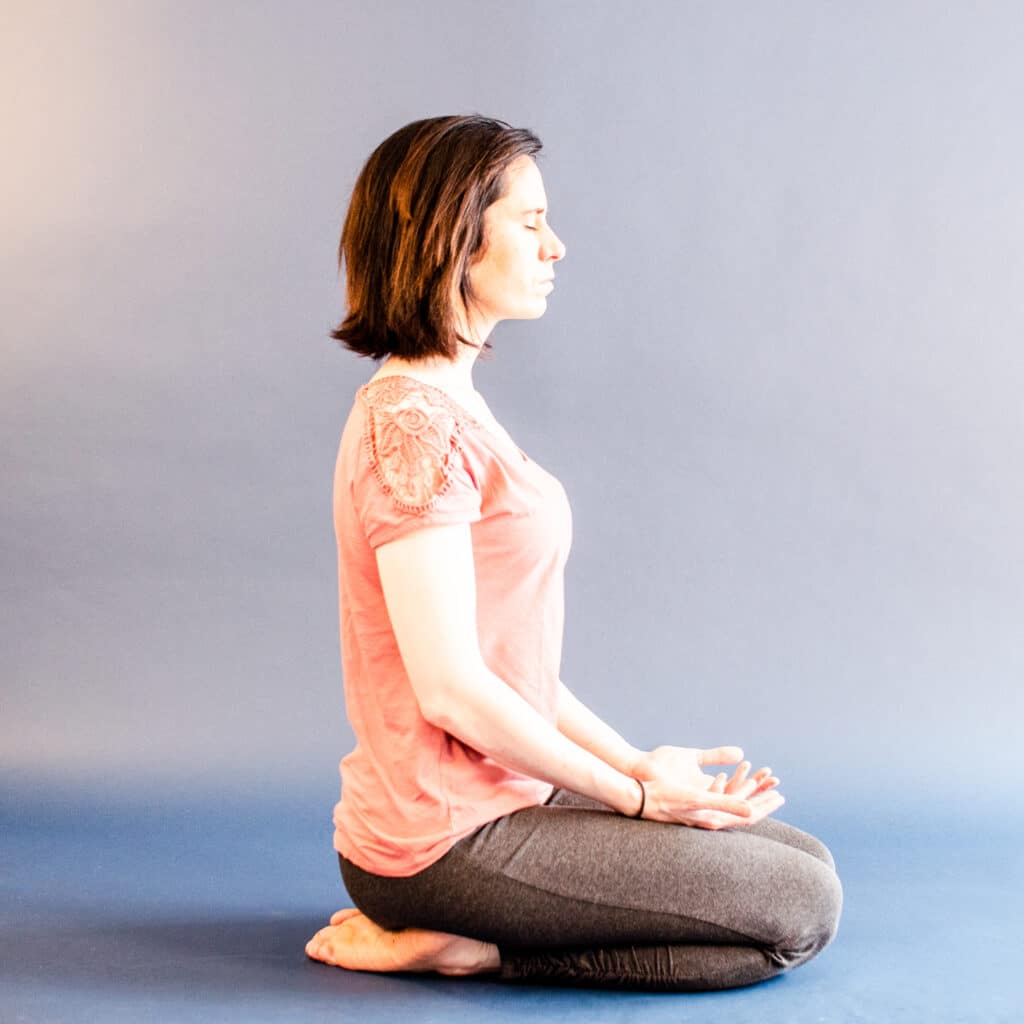 Wave breath
The wave breath is not suitable right after eating. However, it is a great way to speed things up once digestion is well on its way. Doing a few rounds of the wave breath can make you ready for advanced yoga practices more quickly.
To do the wave breath you breath in and hold your breath. Then you alternatively push out and pull in your belly for as long as you can. Then you release the breath and let it calm down.
On Forceful Tranquility
When I plan yoga sessions I consider that it is unwise to do yoga too soon after eating. Here on Forceful Tranquility, I place practices that are the least sensitive to digestion at the beginning of my classes, for example, the wave breath. In contrast, I place exercises that demand a longer time for digestion later on into the practice. This will help you use your yoga time more efficiently.
Key takeaways
It is a bad idea to practice yoga right after a meal.
For best practice results, you have to wait four hours before doing demanding yoga exercises. However, after as little as two hours, you can start with light practices.
There are a handful of yoga techniques that you can do immediately after eating.
Some methods help you speed up digesting, making you ready for your yoga class more quickly.
Was this article helpful?